Lok Sabha elections 2019: 'BJP will breach 282 mark by large margin', says Amit Shah
The 54-year-old Gandhinagar Lok Sabha candidate has canvassed for his party in no less than 290 constituencies to date in this election season.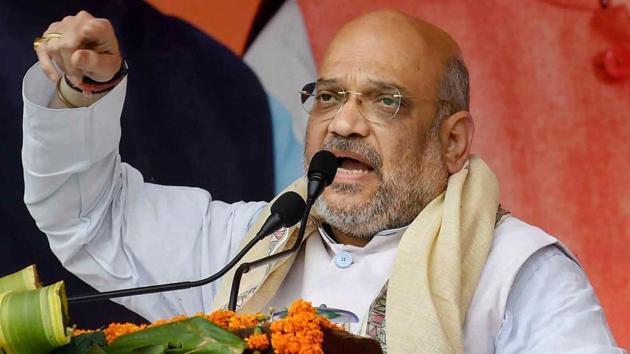 Updated on May 07, 2019 05:02 PM IST
Bharatiya Janata Party president Amit Shah admits that there is no "soft side" to him and says that national politics is "serious business", which he doesn't do for "fun". The 54-year-old Gandhinagar Lok Sabha candidate has canvassed for his party in no less than 290 constituencies to date in this election season. In the past five years, Shah has also visited almost all districts in India save a couple of remote ones in Arunachal Pradesh and has stayed a night in as many as 212 districts. Hindustan Times's Shishir Gupta spent a day on the campaign trail with the BJP president in Sonepat, Panipat, Pathankot, Chandigarh and Patna and asked him a range of questions on the prospects of his party, the NDA and about the performance of the Narendra Modi government. Edited excerpts:
Q : In 2014 Lok Sabha elections, the BJP alone won 282 seats. Will this number increase or go down? What is your assessment after five rounds of polling?
The 282 number will be breached by a large margin by the BJP; even the tally of the NDA will go up. Our analysis of the rounds of voting complete shows that not only the number of seats but also the winning margin will increase and the spread of the BJP/NDA will increase in terms of area.
Q: Why do you think people will vote for the BJP?
Firstly, the public has faith and confidence in Prime Minister Narendra Modi. We can perceive the enthusiasm among the electorate in making Modi PM again. Secondly, the Modi government has done all-round development. This is matched by taking India up the global ladder in terms of GDP growth and making the country proud. Besides, PM Modi has assured 125 crore Indians that his government is committed to national security, which is the topmost priority of his regime -- whether it is taking tough decisions on Jammu and Kashmir or being the most successful government in handling international diplomacy and challenges. In all these issues, the public has seen sweeping positive change from the past. I feel that in PM Modi, people have found a leader who can be sensitive, yet has the capacity to take tough decisions.
Q: As evident in your rallies today, you have made national security a major election issue. Do you really believe that national security is a vote catcher?
Since the 1990s, the public has wanted national security to be a priority. They were longing for a focused strategy, where, diplomatically, India could boldly present its views to other countries and at the same time strike at the source of terror. Till recently, all the wars against terror were fought on Indian soil. We have suffered on this count. It is only under Modi that India has struck twice at the place of origin of terrorists in form of the 2016 surgical strike and 2019 airstrike at Balakot. When the surgical strike happened, defence experts from all over said that it was a fluke and not policy. After the airstrike, the same experts agree that this is the defence policy of India and Narendra Modi.
For the first time since independence, the country's diplomatic policy has been separated from its defence policy. This is why national security is an important issue. Not that other issues have been side-lined. The 22 crore beneficiaries of the BJP government know that it is Modi who has given them their due. They also know that only Modi can give their due to those who are left behind. Besides, there have been agricultural reforms with increased rate of growth, increased coverage of irrigation, faster infrastructure development with 2.5 times increase in road and 2.25 times increase in railroad construction.
Q: The Congress says that even it conducted six surgical strikes
Nobody says this except Congress president Rahul Gandhi.
Q: But former prime minister Manmohan Singh has also said the same?
Congress has to follow the footsteps of Rahul Gandhi.
Q: The Opposition has questioned the timing of UN designation of Jaish-e-Mohammed (JeM) chief Masood Azhar as a global terrorist in the midst of general elections…
You mean to say that UN's 1267 committee should have postponed the meeting and waited for the 2019 Lok Sabha elections to get over. The terror tag on Masood Azhar is the biggest diplomatic victory of Narendra Modi and it comes after the world community recognised India's right to self defence after the February 14 Pulwama suicide attack and the Balakot retaliation. It has also recognised that Pakistan is sheltering terrorists and terror groups.
Q: Will the Masood listing help you in the 2019 elections?
It is an achievement of the Modi government, so why should we not take electoral advantage of it.
Q : In the 2014 elections and all through the assembly elections since, we heard the term social engineering when it came to wining elections. The term seems not so much in vogue now?
It is not that the term is missing but BJP does not need to do social engineering frequently as the party has become inclusive -- all sections of society finds representation in our party. In the past five years there has been a development that will strengthen democracy – elections are no longer a prisoner of caste, dynasties and appeasement. Narendra Modi, through his politics of performance has got rid of these ulcers.
Q : Do you think politics of performance or development will work in a country where people vote in the name of caste and religion ?
There are many examples to counter this -- for instance Assam, Manipur and most importantly Uttar Pradesh where BJP got 325 assembly seats without projecting any caste leader. We got good results in those states as we worked towards solving grievances of the people without keeping caste, creed or religion in mind.
Q: So you think that caste equations will not matter even in UP and Bihar in the on-going election?
I have not said that. I am saying this time voting in these states is not predominantly on caste. Caste-based parties are losing influence. Today, the public understands that caste based parties will help only their caste. In UP for instance, when Samajwadi Party comes to power, one caste gets a boost, similarly BSP majority helps only its supporting caste. The remaining 80 castes remain neglected. BJP with its "Saabka Saath, Sabka Vikas" mantra has been able to transcend castes by doing development work without asking caste of the beneficiary.
Also read: Lok Sabha elections 2019: Diplomacy and defence policy are not linked now, says Amit Shah
Q: Tell me three reasons why people should vote for BJP?
First, BJP has a strong leader, while the opposition leadership is in tatters. The public wants to know the leader or PM candidate of the diverse parties opposing Modi. In contrast, we have given a strong, decisive leader, the most popular Indian mass leader since Independence. To add to this, the NDA recognises and accepts the leadership of Modi. Second, we have made the 50 crore poor in this country realise that they have a stake in the country. These 50 crore did not have a house, electricity, drinking water, cooking gas, toilets for women and health benefits. Today, every poor person has these facilities in 165000 villages due to the BJP government at Centre. There are 22 crore beneficiaries whose life has been positively impacted by this change. Third, as opposed to indecisive or leaderless governments in the past, our decisive leadership has addressed the challenges related to economy, defence, infrastructure, agriculture, or poverty alleviation on every platform or level.
Q: There is one school of thought that says the BJP will end up with 180 seats in 2019 elections leaving the space for opposition to cobble up an alternative.
This theory was active in the run-up to the 2014 results. First, they said the BJP will not make Modiji a PM candidate, then they said lack of full majority will block Modi as PM, then they said Modi will not be able to form a stable government. The same people said BJP will lose Gujarat and UP. This time also, the public will smash all their illusions.
Q: The BJP announced a farm pay out. The Congress has promised a NYAY scheme. Can we say that India is slowly moving towards a cash transfer/payout system like universal basic income when it comes to welfare?
To link the BJP's scheme with a vote catching plan of the opposition, to my mind is due to lack of proper information. In this country, there are 15 crore farmers who have small to large holdings. Out of these 15 crore, only three crore get loans and remaining get nothing as they do not have requisite holding to qualify for loan. These are marginal farmers, who take loans from money-lenders on very high interest rates. This is one of the reasons for farmer suicides. A committee set up by NABARD found that the input cost for small and marginal farmers was Rs 6000 per year for two crops. Just as new industry is promoted by viability gap funding, we decide to respect the farmer by giving him Rs 6000 per year so that he/she did not have to go to the money-lender. This is not a gift. This is just a tonic for the farmer to keep tilling his small piece of land. You will be committing a big mistake if you compare this with cash transfer. Modi government schemes are not doles for votes but serious attempts to lift the status of the beneficiary.
Q: Data shows that the increase in minimum support prices (MSPs) has not really helped the farmers. Not enough is being procured. What do you see as a long term sustainable solution?
Your information is half baked on this issue. Wheat and rice constitute 60% crop in India. Today, the procurement of these two staple crops is done at 1.5 times its input cost. We have added 24 new crops, eight months ago but the full implementation of this novel scheme requires 1.5-2 years with the help of Centre-state governments. My firm belief is that the farmers will be able to get 1.5 times input price for 24 crops, Rabi and Kharif crops. This is just a beginning. We have told the farmer that government is with you as 70% of crops such as dal from Gujarat, Bajra from Maharashtra, Ragi in Karnataka are being purchased by Centre and states. I believe that media should play a positive role in taking this Modi initiative to farmers.
Q: You have talked about getting rid of Article 370, 35A in order to integrate Jammu and Kashmir? Are your NDA allies on board with this?
BJP is totally committed on getting rid of these two articles. We are firm. We will take our allies on board by explaining to them. This is our concrete promise to Indian public. The same applies to our Uniform Civil Code promise.
Q: How committed are you to women reservation bill, Ram Temple and Citizenship Amendment Bill (CAB)?
For women reservation bill, we need consensus among all political parties. It will not happen till this agreement is reached. But we will make all attempts to get all political parties on board. We will definitely bring the CAB and get it cleared through Rajya Sabha too.
Q : When will it happen?
One more round of UP/Bihar of Rajya Sabha polls and things will change in favour of the BJP (in the upper house).
Q : On Ram Mandir?
The Supreme Court has ordered eight weeks of mediation, which will end in June 2019. The case will be taken up after vacation. We will wait for the results. I have firm belief that the Supreme Court will take the route taken by Allahabad High Court.
Q: Sadhvi Pragya Thakur was a terror accused, she is on bail, yet you chose her to contest Lok Sabha elections from Bhopal? Why?
Please study the charge sheet of Sadhvi Pragya. She has not been accused of planting a bomb but being part of a conspiracy meeting for Malegoan, Samajhauta Express and Mecca Masjid blasts. The judgment in Mecca Masjid and Samajhauta Express blast has come. Court has dismissed the conspiracy meeting as imagination, bereft of any evidence. The conspiracy theory has been rejected by two Indian courts and they have said that there is no such thing as Hindu terror. Since two courts have rejected the conspiracy, there is no need to count Sadhvi as an accused. Sadhvi got a Lok Sabha ticket as a riposte to Congress vote bank politics by defaming the Hindu religion by adding the word terror to it. And to expose this, there was no better seat as Hindu terror is the brainchild of Congress leader Digvijaya Singh (the candidate from Bhopal). Sadhvi Pragya's candidature is BJP's satyagraha against fake Hindu terror. I believe let the people also give their judgement after the courts have given it.
Q: Since you say that the NDA/BJP is coming to power in 2019, what role in future you envisage for yourselves? You are a very successful party president and have been a state home minister for six years in the past
As far as I am concerned, I am a log in a river that is BJP. It is for the party to decide, as a log will get swept away if it tries to forge its own course. In my party, individuals don't take decisions .
Q : If you come to power again, will you address the perceived weak bench strength of the cabinet?
I don't believe that a very good performance of Modi government could have been possible if we had a weak bench. Strength of ministers should not be judged on their accessibility to media but on their performance. Union Cabinet is a prerogative of the PM. Changes in the new government should not be seen in the context of success or failure but representation of states in the new elected members.
Q: You did not give Lok Sabha tickets to the former chief ministers of Chhattisgarh, Madhya Pradesh and Rajasthan? Why?
There was no such proposal from the state unit. And all three are putting their energies into making the party win from their respective states. All three are vice president in the central BJP and contributing to the electoral might of BJP.
Q: The opposition has been relentlessly targeting the Modi government about a lack of jobs? Some say the numbers have gone down to the lowest in 45 years.
There is confusion as we are trying to analyse our data with the same parameters used in small countries. Giving permanent jobs to all 125 crore Indian is impossible. The government has come up with innovative schemes for self-employment. Through Mudra Bank, 18 crore loans were given out as loan this year. Opposition tries to laugh away some of this, saying 12 crore of these were small loans of Rs 50,000 and less. It is another matter that an individual can be gainfully employed even with Rs 50,000 as seed money. Of the remaining six crore, three crore were for loans of more than four lakhs each. If three crore get loans of more than four lakh rupees, then it is safe to presume that at least one more person would get employed in each of these cases.
Mamata Bannerjee said that she gave employment to over 60 lakh individuals but the total figure of India is not 60 lakhs. This leads to the question of whether West Bengal is part of India or not? UP has also given jobs. Job data analyses for a 125 crore country cannot be done on the parameters used in Netherlands and England. And then there is common sense. If roads are getting laid at 2.5 times the speed in the past then are robots making the roads? Railroad work is increased by 2.25 times, so is a super human making our rail network? Optical fibre has been laid in 100,000 villages, then who is doing the manual work? Is jobless growth rate possible when Indian was the fastest growing economy in the past five years? Manmohan Singh left the Indian economy at number 11 position among the biggest economies of the world, we took it to number 6 and I believe we will overtake UK once the March data is out. Will this not generate jobs? I am not an economist like (former finance minister) P Chidambaram but a layman with common sense enough to tell you that this canard is being spread as they have no real issue to tackle Narendra Modi.
Q : While on controversies, Congress president Rahul Gandhi has publicly stated that his slogan is still "Chowkidar chor hai" in the context of Rafale deal
Only yesterday, Finance Minister Arun Jaitley, in a press conference, accused a partner of Rahul Gandhi of getting defence contracts. He should answer those allegations first as there is documentary evidence. You are accusing the government on the Rafale deal, which is neither concurred by the SC, the CAG or documetary evidence. And if Rahul Gandhi had documentary evidence or facts, he should have put it up before the court when the Rafale case was being heard. He is relying only on press conference and blatant accusations. Unsubstantiated allegations do not stick to leaders, particularly Narendra Modi whose life has been of an honest politician. Public knows Modiji as well as the Gandhi family. Gandhi family has to answer a whole lot of questions. They are on bail and have been served an IT notice for showing less income to the tune of 400 crores.
Q: How do you read the elections in West Bengal?
We will definitely cross the halfway mark of Lok Sabha seats in West Bengal. There is a huge change happening in Bengal with people upset with appeasement vote bank politics of Didi. Not only is the democracy being throttled in Bengal, but its culture is being destroyed.
Q : Political analysts believe that Maha Gathbandan will affect the BJP's electoral arithmetic in UP. What do you feel?
I firmly believe that BJP will improve on its past tally of 73 in UP. We will be 74 from 73 not 72 in UP. Time has passed when voters followed two leaders shaking hands in a drawing room. Today voter decides on who to vote. You watch the results, BJP will improve its position.
Close Story