Lok Sabha elections 2019: 'Diplomacy and defence policy are not linked now', says Amit Shah
Responding to a question on whether it was alright for his party to use the UN listing of terrorist Masood Azhar as a talking point in its campaign, Shah said: "It is an achievement of the Modi government, so why should we not take electoral advantage of it?"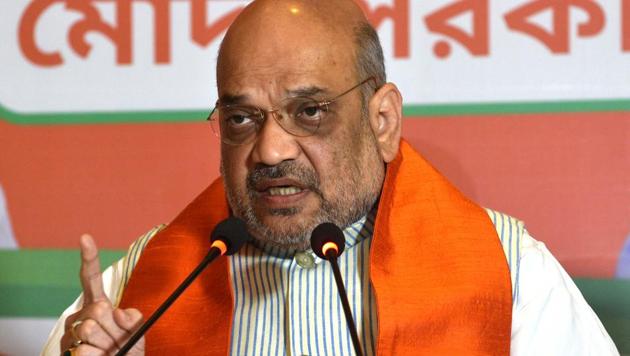 Updated on May 10, 2020 07:55 AM IST
India's defence policy is no longer linked to its diplomatic policy, Bharatiya Janata Party (BJP) president Amit Shah said in an interview, explaining how his party views national security. "…diplomatically, India could boldly present its views to other countries and at the same time strike at the source of terror," he said.
Shah is convinced national security, which his party has made the centrepiece of its campaign, will find an echo among voters. "Prime Minister (Narendra) Modi has assured 1.25 billion Indians that his government is committed to national security, which is the topmost priority of his regime — whether it is taking tough decisions on Jammu and Kashmir or being the most successful government in handling international diplomacy and challenges."
The National Democratic Alliance (NDA) government has delivered on other fronts too, Shah said: "There have been agricultural reforms with increased rate of growth, more coverage of irrigation, faster infrastructure development with 2.5 times increase in road and 2.25 times increase in railroad construction." The BJP president expects his party to better its 2014 tally of 282 in the election and listed three reasons why people will vote for the BJP: "First, the BJP has a strong leader, while the opposition leadership is in tatters. Second, we have made the 500 million poor people realise that they have a stake in the country. Third, as opposed to indecisive or leaderless governments in the past, our decisive leadership has addressed the challenges related to economy, defence, infrastructure, agriculture, and poverty alleviation."
Also Watch | Congress versus BJP | Should SC intervene over alleged EC bias?
Responding to a question on whether it was alright for his party to use the UN listing of terrorist Masood Azhar as a talking point in its campaign, Shah said: "It is an achievement of the Modi government, so why should we not take electoral advantage of it?" He also repeated his party's commitment to scrapping Articles 35A and 370 of the Constitution that give special status to Jammu and Kashmir and said they will have to go. That will happen once his party has a majority in the Upper House of Parliament too, he added. The Rajya Sabha, where the BJP and the NDA have not had the numbers, has come in the way of the government's legislative agenda. "One more round of UP/Bihar of Rajya Sabha polls and things will change in favour of the BJP (in the Upper House)," Shah said.
Also read | Lok Sabha elections 2019: 'BJP will breach 282 mark by large margin', says Amit Shah
The BJP president said that veteran leaders such as LK Advani and Murli Manohar Joshi have not retired from politics, but from electoral politics. "They can guide us in many other ways, such as training the cadres," Shah said, adding that the BJP left out 18 such leaders who were over 75 years of age from directly contesting in the 2019 Lok Sabha elections, "but they still have an important role in the party".
Close Story