Lok Sabha elections results 2019- Dhinakaran questions EC over no votes polled for party
The AIADMK, which partnered the BJP for the general elections, managed to win just one Lok Sabha and won nine seats in the by-polls.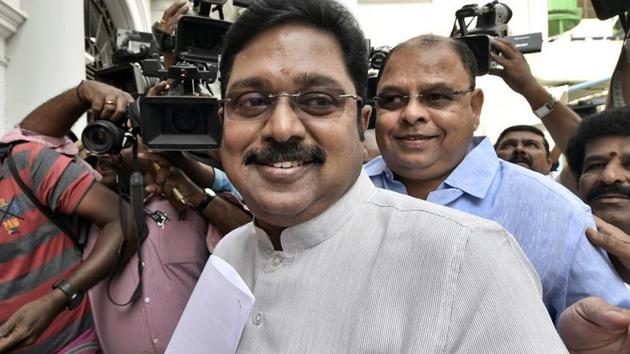 Updated on May 26, 2019 10:09 PM IST
Tamil Nadu's Amma Makkal Munnetra Kazhagam (AMMK) chief TTV Dhinakaran on Sunday said that he was surprised that his party did not get even a single vote across 300 polling booths in the state.
He said the Election Commission (EC) should answer how his party polled no votes at these booths. "We formed booth committees for all the booths in the state. However, we came to know that we have not received even a single vote at over 300 booths. I want to ask where have our booth agents votes gone?'' asked Dhinakaran, who formed AMMK a year after his expulsion from the ruling All India Anna Dravida Munnetra Kazhagam (AIADMK) in 2017.
He said the members of the booth committees insist that they voted for his party. "Therefore, the EC should clear that first,'' said Dhinakaran. He said he was collecting further details and will lodge a proper complaint afterwards.
Also read: New entrants AMMK, MNM fail to garner votes in TN
Dhinakaran, who claims AMMK is the true AIADMK, fielded candidates for all 38 Lok Sabha seats that went to the polls and by-polls to 22 assembly seats in Tamil Nadu. The EC had cancelled election for Vellore Lok Sabha seat in the state citing abuse of money power. The AMMK was unable to win even as single seat.
He said he has no plans of moving court as he did not have proper evidence. "We see it as a temporary setback. We respect the people's mandate."
Chief minister Edappadi K Palaniswami and his deputy, O Panneerselvam, have separately urged the dissident workers and leaders backing Dhinakaran to return to the AIADMK.
"We request all the brothers of AIADMK who have gone the wrong way under the wrong guidance to come back. The people's mandate has saved our AIADMK government by giving us nine assembly seats. However, our rebels have lost even their deposits," said a column published in AIADMK's Namadhu Amma paper.
Dhinakaran said he is not stopping anyone willing to return to AIADMK. "We will not see that as defections from AMMK. However, the struggle to retrieve the AIADMK will continue."
AMMK emerged as the third largest party in the state with 5% votes in the Lok Sabha and assembly by-polls. The Dravida Munnetra Kazhagam-Congress alliance bagged 37 out of the 38 Lok Sabha seats.
The DMK, which won 23 Lok Sabha and 13 assembly seats, got 32% vote share. The AIADMK got just 18.48% vote share. It won in only one Lok Sabha and nine assembly seats
Also read: Kamal Haasan's party, Dinakaran's AMMK bite the dust in Tamil Nadu
Close Story
Personalise your news feed. Follow trending topics