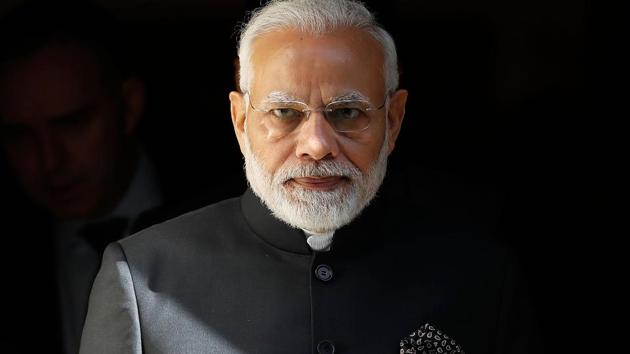 'They say 'chowkidar chor hai' but look where money is found': PM Modi jabs Congress over IT raids
PM Modi took a swipe at the Congress at an election rally in Maharashtra citing raids by the Income Tax officials in Madhya Pradesh.
Hindustan Times, Latur, Maharashtra | By HT Correspondent
UPDATED ON APR 29, 2020 02:49 PM IST
Prime Minister Narendra Modi on Tuesday cited Income Tax raids in Madhya Pradesh to target the Congress, alleging that "corruption is the character" of the principal Opposition party.
PM Modi, who was speaking at an election rally in Maharashtra, said, "They have been saying 'chowkidar chor hai' for six months but see where bundles of note are being recovered from. Who is scared of chowkidar? If so much money is being recovered, it is natural for them to abuse this chowkidar."
His remarks are in response to the Congress's 'chowkidar chor hai' (watchman is a thief) campaign to target him over the Rafale deal.
The Income Tax Department has said that it has detected a "widespread and well-organised" racket of collection of unaccounted cash of about Rs 281 crore during raids against close associates of Madhya Pradesh Chief Minister Kamal Nath and others.
The Central Board of Direct Taxes (CBDT) has said it has also detected a trail of Rs 20 crore suspect cash allegedly being moved to the "headquarters of a major political party in Delhi" from the house of an important person who lives on Tughlaq Road, home to many VIPs.
A little before the prime minister cited IT raids at the poll rally, the Election Commission called the revenue secretary and chairman of the CBDT to discuss ongoing income tax raids amid allegations by the Congress that the ruling BJP is using enforcement agencies to target it ahead of the Lok Sabha elections, voting in the first phase for which will be held on April 11.
The meeting was seen as a follow-up to the election commission's communication to the government, "strongly advising" the Finance Ministry that any action by its enforcement agencies during election time should be "neutral" and "non-discriminatory" and that officials of the poll panel should be kept in loop about such actions.
The poll body's advice followed raids by the Income Tax Department in Madhya Pradesh, Karnataka, Tamil Nadu and Andhra Pradesh in the recent days on politicians and people connected to them. Several of these raids were conducted after the Model Code Conduct came into force on March 10 prompting the Opposition parties to allege misuse of central agencies by the BJP-led government.
PM Modi said, "It has not been six months since the government was formed in Madhya Pradesh but millions and billions are being recovered from their places."
"The sin of buying vote with note has been their (Congress) political culture," PM Modi said adding, "Corruption is the task that the Congress performs with complete honesty after coming into power."
The raids have turned into huge political row between the ruling BJP and Opposition parties ahead of the first phase of the Lok Sabha elections. Meanwhile, IT raids on Praveen Kakkar, the officer on special duty (OSD) attached to the Madhya Pradesh chief minister continued for the third day on Tuesday.
"It was a political operation," news agency ANI quoted Kakkar as saying. "Despite the two-day-long raid, they didn't find any document that they could seize, they didn't recover any cash or jewellery. They didn't find anything objectionable, it was a political operation," Kakkar said, according to the ANI.
Madhya Pradesh Chief Minister Kamal Nath termed the IT raids on Kakkar as "politically motivated" action, ANI reported.
WATCH: MP CM Kamal Nath labels I-T raids 'political pressure'
Close