Won't be team B of any national party, says TRS chief KCR's daughter Kavitha
We are not going to be Team B of any national party, said Kalvakuntla Kavitha, Nizamabad MP and daughter of TRS president K Chandrasekhar Rao in an an exclusive interview to Hindustan Times.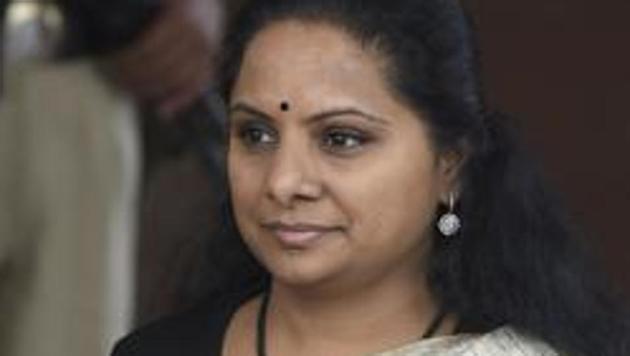 Updated on Mar 15, 2019 09:45 PM IST
Telangana Rashtra Samithi will not join the governments at the Centre, be it a Congress-led coalition or the BJP-led NDA, but will maintain a cordial working relationship with the Centre to ensure the state's development, TRS parliamentarian from Nizamabad and chief minister K Chandrasekhar Rao's daughter Kalvakuntla Kavitha, said.
"We are not going to be Team B of any national party. We will continue to be the same what we had been in the last five years, fighting for what is legitimately due to our state by maintaining a good working relationship with the Centre," Kavitha said in an exclusive interview to Srinivasa Rao Apparasu.
Excerpts:
Q: The TRS went in for early elections to the state assembly to seek a referendum on the performance of the KCR government. Now, with what agenda will you go for Lok Sabha elections?
A: We did not want to link the assembly elections with the Lok Sabha polls because we believed that in simultaneous elections, state issues get drowned in the national narrative. We wanted the national parties to talk about local issues rather than issues like Mandir and Masjid or Rafale and Bofors. The TRS leadership wanted the people to give their referendum on its performance in the last four-and-a-half years.
Now, our agenda for the Lok Sabha elections is to explain to the people what these national parties had failed to do for the country and raise issues like Kashmir, 33 per cent reservation for women in legislative bodies and the Centre's failure to deposit Rs 15 lakh in the accounts of every citizen.
Our party will push the welfare and development agenda, which we have implemented in the state, at the national level and see that it is replicated all over the country. In schemes like Rythu Bandhu, we have been the guiding star for many states. Even Prime Minister Narendra Modi introduced a similar scheme at the national level. As a start-up state, we have fresh ideas and our leader wants to spread them across the country. Hence, he is asking the people to give 16 seats to the TRS. We believe that TRS can play a greater role at the national level development.
Q: The TRS already had 14 MP seats in the last Lok Sabha. What additional benefits would it bring if it is given two more seats?
A: Let us not forget that we could achieve statehood for Telangana when we had just two MPs. We did not have much support from the Centre in the last five years, but we achieved a lot with our MPs. If we have more MPs, we can have a greater role to play at the Centre.
Now, we command huge respect for our party and leader, because they have seen our performance. Compared to other smaller states like Chhattisgarh and Jharkhand, Telangana has achieved tremendous progress. We are a shining star now and have set an example for many other states. So, tomorrow, when we raise our issues, we will be taken very seriously.
Q: How can you achieve them without being an ally of the coalition government at the Centre?
A: We don't have to be an ally. Why should we be an ally of the ruling party at the Centre and why can't the Centre be neutral towards the states when it comes to development? India as a democracy has to evolve to that level.
Q: Suppose, if NDA returns to power for a second term, what will be your stand?
A: Our stand will be the same as it has been for the last five years. We want to maintain good working relations with the Centre, whichever party comes to power. It does mean we are not Team B of any party. It only means we are very serious about the state's development. We make sure that we get all permissions for various irrigation projects we have taken up and other projects like railways and national highways.
In the NDA government, we fought in Parliament continuously, reminding the leadership that we are not your ally, but we need your support for our state and you cannot stop the state's progress for the sake of political alliances. We fought for AIIMS and got it. The TRS MPs used to go in groups to the Prime Minister and other ministers with representation to ensure that the state gets its due share.
Of course, we also keep in mind the larger interest of the country. We will act accordingly, whenever the situation demands.
Q: If the situation demands, will you join the government or give support from outside?
A: We really hope both these national parties do not get the required majority to form the government. It is time for change. We hope people will teach a lesson to both these parties by not giving them enough seats. Then the regional parties like TRS and BJD can have a greater say in running the country. It should happen.
Q: Don't you think you can push your agenda better by joining the government?
A: Even from outside, we shall certainly push our agenda. Any party in power at the Centre will have certain fundamental duties like protecting the borders, monetary policies, internal security, foreign policy etc. Development and these issues of national prestige should go hand-in-hand. The regional parties should be taken into confidence. It needs change in the mindset for the national parties.
Close Story
Personalise your news feed. Follow trending topics