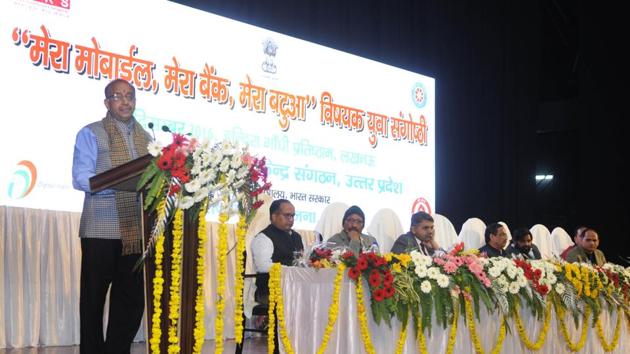 PM a superman, not afraid of taking bold decisions: Goel
Goel says, "the PM wants to create a digitally-empowered society. He is talking about less cash and encouraging the youth to move to digital transactions. Sixty per cent of the country's population is youth and the PM is banking on youth power."
PUBLISHED ON DEC 20, 2016 11:28 PM IST
Union minister of state for youth affairs and sports Vijay Goel said Prime Minister Narendra Modi was a "Superman" who was not afraid of taking bold decisions.
Addressing the gathering during the launch of a training programme on the use of mobile banking for the youth at Indira Gandhi Pratishthan here on Tuesday, Goel said no other politician could think of taking tough measures such as demonetisation and surgical strikes.
Goel said demonetisation would destroy black money and weed out counterfeit notes that were in circulation. "After demonetisation, thousands of crores of rupees in black money were deposited in banks which would now be used in development works like construction of bridges, roads and hospitals," he said.
He said India carried out a surgical strike as Pakistan was promoting terror on international border. "It is easy for the opposition to criticise the PM. Modi announced demonetisation in the interest of the country and not for himself," Goel said.
"The PM wants to create a digitally-empowered society. He is talking about less cash and encouraging the youth to move to digital transactions. Sixty per cent of the country's population is youth and the PM is banking on youth power. His decisions aim for the welfare of youth," he said.
Goel called upon the youth to highlight the good work and welfare schemes of the central government among the people. Responding to a question as to when would the long queue at banks end, the minister said, "Whenever there is a big change, people are bound to face inconvenience. Except a few politicians, people have never complained," Goel said.
He asked several questions to youngsters about PM Modi's popular scheme. Mayor Dinesh Sharma and BJP MP Kaushal Kishore also lauded the leadership qualities of the PM.
The training programme, 'My Mobile, my bank and my wallet', is being organised by Nehru Yuva Kendra Sangathan, UP.
Read more: India adding 1 million new m-wallet users every day
Close