UP BJP lawmaker courts controversy as video of him berating police goes viral
The MP says he made the comments in a fit of rage as the police were acting against BJP supporters and were not listening to public representatives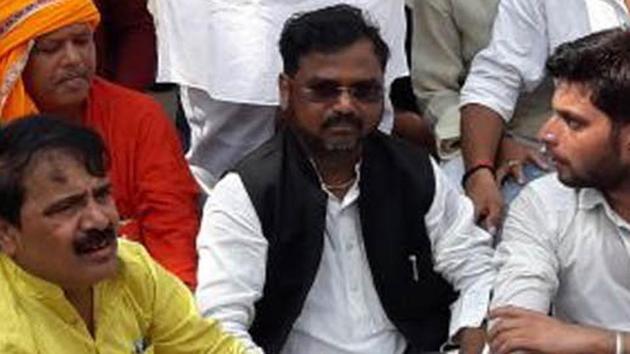 Updated on Oct 14, 2017 03:46 PM IST
A Bharatiya Janata Party MP from Uttar Pradesh courted controversy as a video of him making derogatory remarks against police was widely circulated on social media.
In the video, Robertsganj parliamentarian Chhote Lal Kharwar was heard berating policemen at a protest meeting in Naugarh town of Chandauli district of the state on Thursday.
The MP accused the police of acting against BJP supporters during October 12 voting on a no-confidence motion moved against his brother and block pramukh Jawahar Lal Kharwar.
A block development committee (BDC) member Neetu Singh had moved a no-confidence motion on September 16 against Jawahar, who was elected block pramukh two years ago.
Neetu Singh, along with 28 BDC members, submitted an affidavit to district magistrate Hemant Kumar in this regard.
Later, Jawahar also submitted a memorandum to the DM claiming that the BDC members had been forced to take a stand against him.
The DM asked Jawahar to prove his majority.
While the voting was underway, the BJP supporters alleged that the police were favouring Neetu Singh and her supporters.
To protest police's action, the MP and his supporters staged a demonstration where he abused cops.
Talking to the HT over the phone, the MP said that the BDC members, who were supporting Neetu Singh, were allowed to cast their votes in groups.
"I complained about it but the police did not take note of it," he said.
"In a fit of rage, I uttered a few words against the Chandauli police, including the superintendent of police, as they were hand-in-glove with my brother's opponents. I didn't say anything against the UP police in general," Kharwar claimed.
He said he would inform UP BJP president Mahendra Nath Pandey about the incident and would lodge a complaint against the superintendent of police.
"I will also call on chief minister Yogi Adityanath and convey him that top policemen, including the SP, were not listening to public representatives," Kharwar said.
Terming the MP's allegations baseless, Chandauli SP Santosh Kumar Singh said, "Police personnel performed their duty in a dedicated manner. They didn't lose their cool. He (Kharwar) is an MP so I would not comment against him. The only thing I would like to say is that everyone should use dignified language."
"The police performed their duty and did not favour anyone," he claimed.
Counting of votes will be held after October 30. Out of 40 BDC members, 27 cast their votes.
Close Story
Personalise your news feed. Follow trending topics