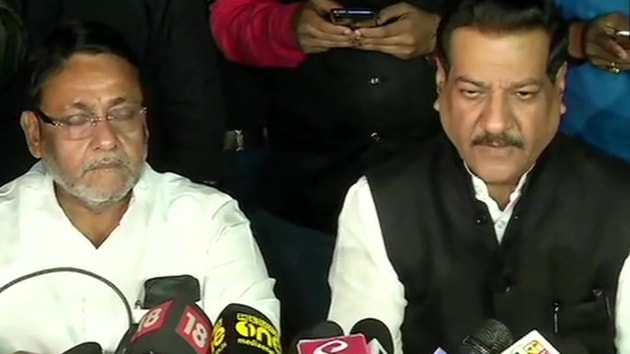 Cong-NCP combine okay with Sena chief minister, start discussing fine print
Maharashtra government will be formed ASAP, says Prithviraj Chavan after Cong-NCP meeting on alliance with Shiv Sena.
UPDATED ON NOV 20, 2019 10:03 PM IST
The Congress and Sharad Pawar's Nationalist Congress Party have agreed in principle to form a stable government in Maharashtra led by a Shiv Sena chief minister, people familiar with the development said after a 200-minute meeting between senior NCP and Congress leaders on Wednesday evening.
"We will be able to give (Maharashtra) a stable government as soon as possible," former chief minister and senior Congress leader Prithviraj Chavan told reporters after the meeting between NCP and Congress leaders ended.
Chavan, who stressed that the Congress and NCP leaders had gone into various aspects of government formation, said the discussions and consultations would go on late into the night and continue tomorrow.
This is the first time in days that the Congress has unequivocally spoken about government formation in Maharashtra.
After his last meeting with Congress chief Sonia Gandhi on Monday, the NCP chief had insisted that he had only briefed the Congress president about the political situation in Maharashtra and not discussed the alliance with the Shiv Sena. That remark had sparked off speculation and some uncertainty about the fate of the alliance that had been in the making ever since the Sena broke up with the BJP after state elections.
On Wednesday, Sharad Pawar hosted senior Congress leaders including Ahmed Patel, Mallikarjun Kharge and Chavan at his Delhi residence to work out the details of the arrangement with the Sena.
NCP leaders indicated that the two allies had agreed to let Uddhav Thackeray's party hold the chief minister's chair but agreed that other ministerial berths should be in proportion to their strength in the assembly.
Close