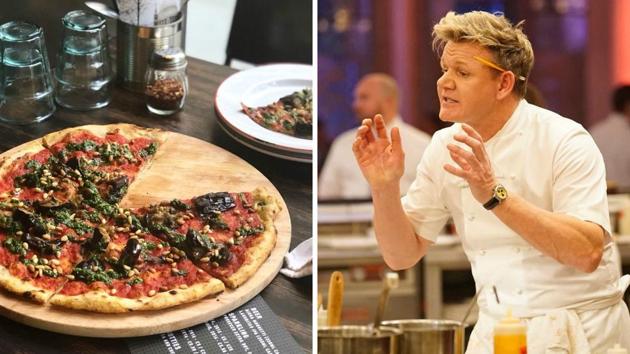 Gordon Ramsay posts about giving 'this vegan thing a try', shocks Twitter
In the past, renowned chef Gordon Ramsay has famously mocked PETA, vegan food and people who follow a vegan lifestyle.
UPDATED ON APR 18, 2018 11:07 AM IST
Michelin star chef Gordon Ramsay appears to have taken a U-turn from his stand of mocking the plant-based diet. On Tuesday, Ramsay took to his Twitter account to post a picture of a cheeseless pizza topped with tomato, mushroom, pine nuts and pesto and captioned it: "Going to give this whole #vegan thing a try. Yes guys you heard that right. Gx."
His followers were in for a shock after reading this as several of them posted memes saying "We fear change" and "This tweet was so savage I had to re-read it to confirm what I was seeing."
Many vegans hailed Ramsay for giving vegan food a shot and encouraged him.
But the pizza, which lacked dairy substitutes like vegan cheese was also criticised by some vegans.
A user tweeted requesting Ramsay to work on a vegan spin-off of his popular TV show, Hell's Kitchen.
Prior to this declaration Ramsay posted another short video of a lit-wood stone oven and captioned it as "There's something cooking in The City of #London. Can you guess what it could be?"
As we later found out, that the video was of the same vegan pizza of which he later posted the picture.
Although a change in the dietary stance of Gordon has not been yet confirmed, it is no less a shocking statement by a chef who had earlier posted his own full-form of PETA. In February Ramsay tweeted, "I'm a member of PETA! People eating tasty animals......" This tweet was re-tweeted more than 43,000 times. PETA originally stands for People for the Ethical Treatment of Animals.
Ramsay, who is known for his foul-mouthed language, has never shied away from being vocal about his pro-meat stance. On earlier occasions, the chef has invited trouble as he had mocked vegans and the vegan food.
Follow @htlifeandstyle for more
Close