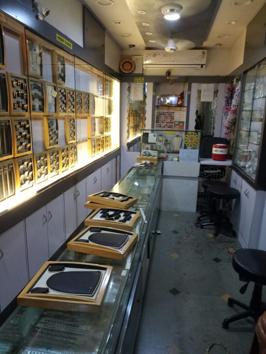 2 men attack jewellery shop owner, flee with ornaments worth
₹

65 lakh in Navi Mumbai

Store owner in hospital; Kamothe police examine CCTV footage to identify accused, who had not covered their faces.

UPDATED ON MAY 18, 2018 03:08 PM IST
Two unidentified persons attacked the owner of a jewellery store in Kamothe, Navi Mumbai, with choppers and escaped with more than three kilograms of gold and diamond jewellery worth Rs 65 lakh, and Rs 1 lakh cash, on Thursday night.
The owner of Balaji jewellery store, Sanjay Jain, 36, is badly injured and has been admitted to a private hospital in the area.
Police said the duo entered the store around 10 pm, attacked the shopkeeper, who was alone and about to close his shop for the night, and ran away. "The value of the stolen jewellery has been estimated to be around Rs 65 lakh. The exact amount is yet to be ascertained," said an officer from Kamothe police station, who did not wish to be named. "The two men seem to be 28 to 30 years old. Their faces were not covered, and the store has CCTV, but they took away the DVR, so we have no records from the shop itself."
The Kamothe police, who have registered the case, said they are currently examining footage from other CCTVs in the area. "The problem is that most shops had closed, so there is very little light on the street and the footages are grainy and dark," the official said.
The police have formed multiple teams to trace the culprits. So far there has been no breakthrough.
Close