45% of flights were not on time at Mumbai airport in December
Even as domestic carriers squabble over whose flights were mostly on time, flight movement data showed that fliers across airlines faced their worst delays at the Mumbai airport in December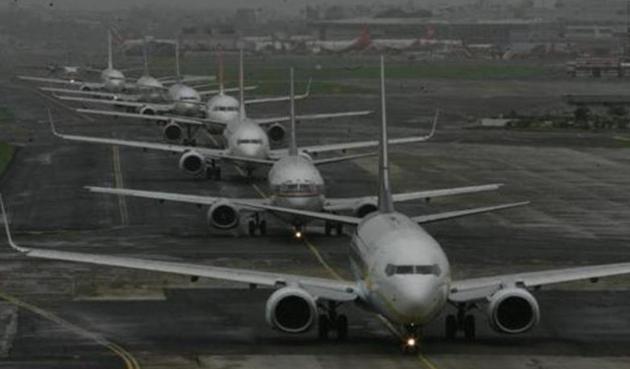 Updated on Jan 12, 2017 03:23 PM IST
Even as domestic carriers squabble over whose flights were mostly on time, flight movement data showed that fliers across airlines faced their worst delays at the Mumbai airport in December.
Only 55% flights arriving and flying out of the city were on time in December, the poorest last year. This means that people travelling on more than four out of ten flights (45%) were stranded inside planes on ground, in terminals or circled above the airport.
The previous worse record in 2016 was in July when just over 40% flights at the country's second busiest airport were late.
While fog-induced disruptions primary caused the dismal numbers, the unprecedented holiday rush could have put the space-constrained airport to test, said industry experts. "December is known for fog delays. But this year passengers' volumes rose by 23% over the same period last year. The airport might have been underprepared for the rush," said a senior executive with an aviation think tank requesting anonymity.
The data indicates this.
When the airport handled 16,749 flights in November, it saw 39% delays. A month later it raised the capacity to 18,184. As a result, almost one in two flights did not take off or arrive on time.
"Delays in November were understood as it saw several days of intermittent runway closures. But the delays last month were clearly owing to biting more than one could chew," said a senior air traffic control (ATC) official, requesting anonymity.
The airport fared way better in at least four previous Decembers, data added. December 2015 was particular better when delays came down to 29%. Between 2012 and 2014, the month saw about 34% flight delays.
"The Directorate General of Civil Aviation (DGCA) needs to be judicious while allotting take-off and landing slots to airports. What is the point adding hundreds of flights and choking airports nearing saturation," said a former DGCA official requesting anonymity.
A recent air traffic projection report by industry think tank, Centre for Asia Pacific Aviation (CAPA) warned about India's airports getting choked.
"The situation at key metros, such as Mumbai and Chennai, is particularly acute as these airports are fast approaching saturation. But more importantly, India faces the very real prospect of an airport capacity crisis," said Kapil Kaul, chief executive officer and director, South Asia, CAPA.
Projected growth rates indicated that most of the 40 largest airports in the country will exceed their design capacities within the next decade, the report said, adding that the bidding process for the delayed Navi Mumbai airport might again miss its February 2017 deadline.
Read
On-time performances of flights: Senior officials meet aviation regulators
Close Story