Adopt international air traffic standards to improve operations: DGCA to airports
The Directorate General of Civil Aviation (DGCA) issued a circular advising the changes so that air traffic can be better managed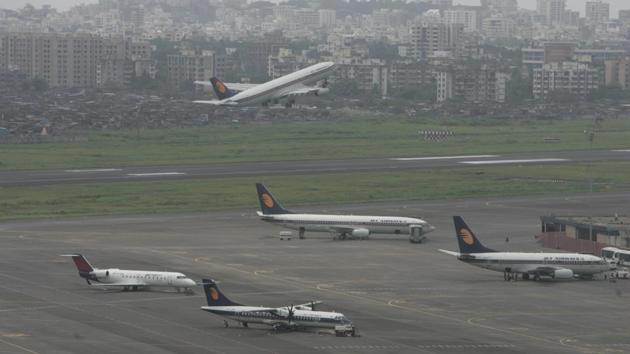 Updated on Mar 28, 2018 04:45 PM IST
Hindustan Times |
, Mumbai
Neha Tripathi
India's aviation regulator has asked all aircraft operators in the country to be ready to standardise the air traffic managing process so that higher volumes than current levels of traffic with narrower lateral and longitudinal spacing can be managed using Data Link communication, resulting in better fuel economy and improved on-time performance of aircraft.
The Directorate General of Civil Aviation (DGCA) issued a circular advising the changes so that air traffic can be better managed in terms of contacting aircraft on time and locating their positions, thereby ensuring they are given appropriate flight levels more efficiently and by reducing lateral and longitudinal separations.
The objective of the circular is to achieve standard performance levels of air traffic controllers (ATCOs), irrespective of the location they are operating from. Apart from improvements in OTP, the changes could also lead to fuel economy performance of aircraft and reduced pollution caused by emissions.
The directives aims to prepare the Indian aviation sector and airspace meet to the standards laid by International Civil Aviation Organisation (ICAO). To better air traffic management through new age technology in the future, ICAO wants to make the system mandatory across the globe.
The operations circular states guidance for aircraft operators on the plan to implement performance-based communication and surveillance (PBCS) in accordance with ICAO guidelines. This means the regulator has announced to improve handling of better air traffic management using data link between aircraft and ATC for error free and much faster communication facility.
This technology will facilitate two-way connectivity between pilot in command and ATCO connectivity using radio telephone and data link. Data link is encrypted message system which is decrypted only once received by the receiver, thereby making it fool proof from hacking. Former air force pilot and aviation expert, Vipul Saxena explained, "In many areas near Mumbai airspace, voice communication becomes difficult. In such cases data link communication is more efficient."
The circular states both the air traffic control (ATC) and the airlines must have necessary equipment fitted for more efficient communication process. This facility, though available currently, is used in a limited manner.
Commenting on the circular Saxena said, "The circular appears to be a revolutionary guideline to introduce efficient air traffic management and standardise performance level of ATCOs, better pollution control, profitability to the airlines and OTP."
Close Story