Centre's Aayushman Bharat to cost

₹

500 crore more than State's own scheme
State has included 61,000 families of farmers, irrespective of their annual income, from 14 districts with the highest suicides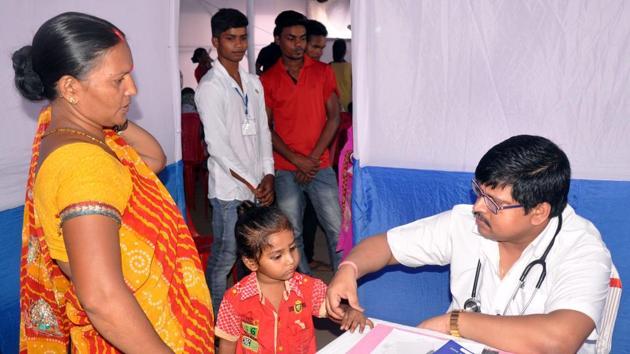 Updated on Jun 22, 2018 12:14 AM IST
The state government has differed with the central government over the latter's ambitious mediclaim scheme, Aayushman Bharat. The State will have to shell out about ₹500 crore for the scheme which was announced in the union budget early this year and is demanding that the Centre offer financial assistance for the same.
The state government-run Mahatma Phule Jan Arogya Yojana (MPJAY) — one of the best mediclaims in the country — covers about 2.23 crore families and offers 971 procedures with medical cover of up to ₹1.5 lakh per family. This costs the state ₹800 crore a year. The state has so far treated 19.9 lakh patients in the last five years of the launch of the scheme.
Against this, the Ayushman Bharat will offer coverage of up to ₹5 lakh per family for 1,037 procedures. It will however, cover only 83.65 lakh families below the poverty line as opposed to the 2.23 crore families covered in MPJAY.
The reason for the difference between the cover of the beneficiaries is that the State has used the data of poor families identified for the yellow and saffron ration cards in 1999, while the Centre's figures are based on the socio-economic caste census conducted in 2011. Secondly, the State has included 61,000 families of farmers, irrespective of their annual income, from 14 districts with the highest suicides.
The difference in terms of coverage and number of procedures make the Central scheme burdensome for the state. "Our annual premium for 971 procedures is ₹690 a family and with our plan to extend it to 1,100-plus procedures, it could rise to ₹1,100. For the implementation of the Central scheme, we will have the additional annual burden of about ₹500 crore to cover the difference between the cover of patients and expenditures. Secondly, MPJAY is managed by an insurance company, while for Ayushman Bharat, we will have to have our own IT platform and an awareness drive for which we will have to bear the financial burden," said Deepak Sawant, public health minister. He said that the burden is despite the Centre sharing 40% of the expenditure on Ayushman Bharat.
The minister said that during his meeting in Delhi on June 14, he asked for financial aid to make up the burden. "We are not against the Central scheme, but our concerns about the financial burden are genuine and we expect them to be addressed. We have also expressed the need for strengthening our own hospitals by dropping procedures like cataracts, normal delivery from the proposed central scheme," he said.
The Ayushman Bharat was announced by the Centre to provide health insurance of up to ₹5 lakh to 10 crore poor families in the country. Twenty states have recently signed a memorandum of understanding (MoU) with the Centre for the implementation. However, states like Maharashtra, Andhra Pradesh, Tamil Nadu and Rajasthan have their own mediclaims with robust coverage of beneficiaries.
Close Story