Coast is clear for road to unclog Mumbai
Work on in full swing after top court modified HC order last week; ongoing construction comprises 17% of total work on the project, says civic official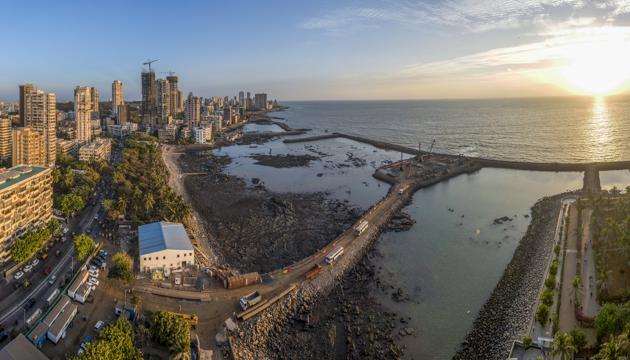 Updated on May 14, 2019 08:28 AM IST
Hindustan Times |
, Mumbai
Eeshanpriya MS
Construction on the Brihanmumbai Municipal Corporation's (BMC) ambitious coastal road has resumed in full swing after the Supreme Court (SC) last Monday modified a Bombay high court (HC) order from April.
The SC reprieve allows contractors to proceed with works that have already commenced, but with a rider that there will be no new work in any new area.
Working round the clock on all days of the week, the BMC has resumed work at Priyadarshini Park, Marine Drive, Amarsons Garden, Haji Ali and the Worli sea face.
According to a senior civic official, ongoing construction, which began last December, comprises 17% of the total work of phase one of the project, aimed to connect the island city to the western suburbs. The estimated cost of this is ₹12,721 crore.
"There is no new work going on right now. Whatever works were going on before the court case has resumed," said an official. This involves construction of a sea wall, launching and retrieval pits for construction of tunnels under Girgaum Chowpatty and Malabar Hill, and site offices for engineers at work.
The BMC had anticipated that this work would be over before the monsoon began. However, it was delayed for a short while owing to a case filed by environmentalists over concerns about the adverse effect reclamation from the sea would have on marine biodiversity.
However, the official said, "This is a mega project, so work is going on 24X7. It cannot be stopped in monsoon now. Whatever work is possible in monsoon, without affecting any marine life, will be done. The work at hand needs to be completed even if there is monsoon."
The coastal road project is crucial for the BMC and the city. According to its plans, the civic body aims to complete construction within four years. To make sure it is fast-tracked, and not derailed or delayed, the civic body signed contracts with bidders with clauses to levy heavy penalty on them, in case of delay in construction.
On his first day in office on Monday, new civic chief Praveen Pardeshi addressed environmental concerns and fear among fishermen that the project will affect their livelihood.
"The environment and fishermen's livelihood will not be affected in any way. This is a precaution we will take. Such provisions have already been made in the project, which has received all environment clearances. All environment impact assessment surveys are in place. We have to educate people about these studies and the precautions we are taking. We will address the concerns they have about the impact coastal road will have on the sea's biodiversity or the livelihood of fishermen. We also have mitigation provisions in the project."
Close Story