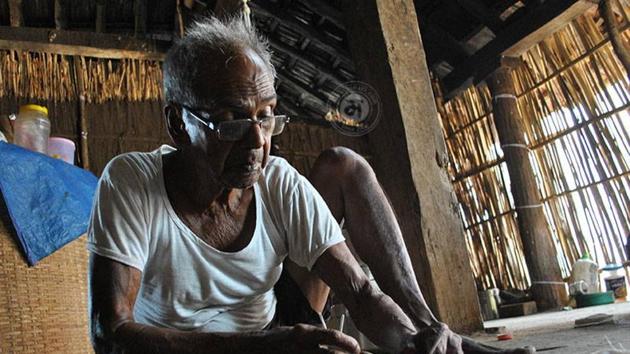 Globally-renowned Warli artist Jivya Shoma Mashe dead
The 87-year-old popularised the tribal art form and won a host of international awards
Hindustan Times | By Ram Parmar
, Palghar
UPDATED ON MAY 16, 2018 11:22 AM IST
Internationally acclaimed artist Jivya Soma Mashe, who popularised the Warli art form, died in his native village in Ganjad near Dahanu on Tuesday due to age-related ailments. He was 87.​
He is survived by two sons, Sadashiv and Balu, both Warli artists, and a daughter.
Mashe was given a state funeral at his ancestral home in Ganjad, which was attended by tribals and lovers of Warli art on Tuesday afternoon.
Born on March 13, 1931, Mashe was fascinated with the tribal art of living and decided to propagate the rich tribal life through Warli paintings, which is the traditional tribal form of painting.Since he was 11 years old, Mashe was particularly fascinated with tribal weddings and would portray scenes from weddings through his paintings, said Narendra Patil, a social activist who knew Mashe. His paintings adorn the drawing rooms of fans spread across Russia,Italy, Germany, Japan, China, UK, Belgium and many other countries,said Patil.
In 1975, the then Prime Minister Indira Gandhi told Bhaskar Kulkarni,a senior member of the Crafts Board, Delhi, to find a traditional painter who could depict the tribal way of life, Patil said. Kulkarni came across Mashe's paintings and presented him before the late PM, who was fascinated with his work, and encouraged him to spread Warli paintings worldwide, Patil said. In 1976, the then President of India Fakruddin Ali Ahmed allotted 3.5 acres of land to Mashe in the then undivided Thane district to propagate Warli art. However, Mashe got the land only after 35 years, in 2011, after the intervention of then Congress vice-president Rahul Gandhi.
When Mashe was 7 years old, he lost his mother and was rendered speechless for a few years due to the trauma. Due to the tragedy, Mashe and his family shifted from Dhamangaon in Talasari to his present home in Kalambipada in Ganjad, said Ramakant Patil, another social worker who knew Mashe. When he was speechless, he would communicate with people by drawing images on paper and on the sandy ground,Patil said.
Mashe's work was highly acclaimed and he won a host of awards. Navnath Zare, resident district collector, Palghar, said Mashe was awarded the Padmashri in 2011 for propagating the Warli art form. In 1976, he received the National Award for Warli art. In 2002, he received the Shilp Guru award, a Government of India award given to master craftsmen. In 2009, he was the recipient of the Prince Claus Award fro Warli tribal painting, said Zare. The Prince Claus Awards are presented by the Prince Claus Fund for Culture and Development to honour 'artists, thinkers and cultural organisations in Africa, Asia, Latin America and the Caribbean,' whose artistic and cultural work makes a positive contribution to the social development within their country. Mashe was also given a cash award of Rs17 lakh by the Queen of Belgium for his traditional Warli painting skills and was felicitated by Tokio Hasegave, the founder director of Mithila Museum,Tokamachi, Japan.
He is survived by two sons, Sadashiv and Balu, who are carrying on the legacy of their father, and a daughter.
Close