How safe are Mumbai's stations and malls?
From multiple entry, exit points at malls to archaic station infra, review of SOP shows measures aren't adequate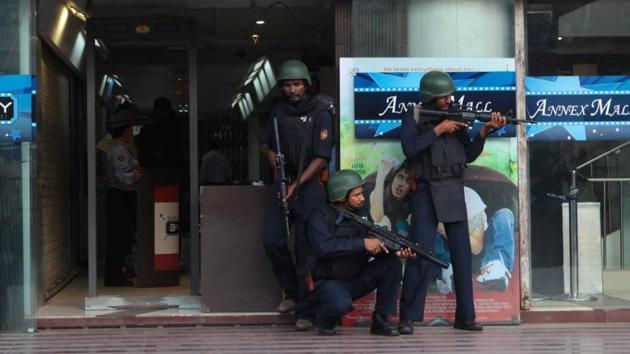 Updated on Nov 20, 2018 08:47 PM IST
Hindustan Times |
, Mumbai
Jayprakash S Naidu
A detailed security review taken after the 60-hour long terrorist attacks of 26/11 mandated a new standard operating procedure (SOP) that would upgrade security at vital installations, particularly those which saw high footfalls in Mumbai including malls and railway stations. Ten years later, however, the security arrangements at such places remain questionable.
One of the basic security measures that were suggested to malls was a single entry and exit point so that terrorists trying to enter would face the full force of the security. Another basic measure was asking customers to remove their mobile phones while they are checked by the metal detector at the door and then by the hand-held metal detector. A visit to Infiniti mall in Malad, the Inorbit and Oberoi malls in Goregaon and High Street Phoenix in Lower Parel showed that neither of these suggestions are followed.
Mukesh Kumar, chief executive officer of Infiniti, said, "Considering the size of our mall, single entry and exit point is not feasible for our patrons and may lead to unpleasant customer experience. Entry and exit points are designed to give better customer experience, for e.g. separate entry and exit points for walk-in customers as well as customers who are visiting mall with vehicles."
Kumar said that the mall does implement necessary precautions and security measurement. "Baggage scanners and door frame metal detectors (DFMD) are placed at entry points. Physical frisking is done and hence we allow our customers to carry mobile phones with them. It is not feasible to ask all visitors to remove mobile phones before entering the DFMD, especially during rush hours," said Kumar.
Homemaker Parumita Banerjee had a close shave on November 26, 2008. "We had gone to Oberoi and then were heading to the Taj for dinner but we were asked to leave and later learnt about the terror attack," she said. She said that the security precautions at High Street Phoenix could be better. "At this mall, our car was checked partially. Things can be better. Practically, they can learn from the security measures being taken in developed countries and try to follow them to avoid any untoward incident," said Banerjee.
An email from Oberoi mall stated, "We at the Oberoi mall have dual entry/ exit that ensures high level of safety from a fire safety perspective. Single entry points are not ideal for a mall with high footfalls. However all entry and exit points have security checking which are as prescribed by police guidelines." Also, all security points have a table placed where customers are supposed to put their phones on while passing through the DFMD. "We have also ensured that, all security processes are as per police guidelines and the mall has installed scanners that are used for high traffic entries and for low traffic entries, we use a combination of DFMD and hand-held metal detector (HHMDs). The dual process of DFMD and HHMD ensures a high level of compliance. All processes are audited regularly by competent authorities."
Unlike the malls which have upped their security, the railway stations across Mumbai continue to remain vulnerable despite having installed DFMDs at almost all railway stations. Both Government Railway Police (GRP) and Railway Protection Force (RPF) officials complained that the archaic infrastructure of railway stations does not allow proper security measures to be implemented.
"There are enough illegal entry points at almost all railway stations. This coupled with the influx of population renders current security measures to be not effective," said a police officer from GRP, requesting anonymity.
Close Story