ICMR questions Mumbai hospital's stem-cell therapy
Apr 26, 2019 08:27 AM IST
On Thursday, doctors at Surya Hospital announced in a press conference that they had successfully treated a premature baby using stem cells.
The Indian Council of Medical Research (ICMR) has called into question the ethics and protocols followed by a Santacruz-based super-speciality paediatrics hospital in its use of stem-cell therapy to treat a 26-week-old preterm baby's lung condition.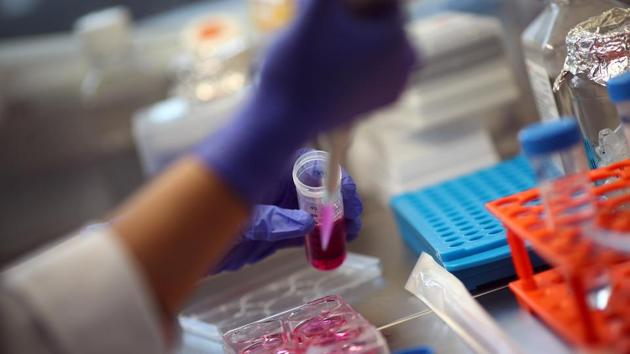 On Thursday, doctors at Surya Hospital announced in a press conference that they had successfully treated a premature baby using stem cells. The baby was born in June 2018 with a condition called bronchopulmonary dysplasia (a form of chronic lung disease that often affects preterm babies), which led to severe breathing difficulties. He was put on a ventilator, but showed no signs of recovery for four months. They started the stem-cell therapy procedure in October 2018 by injecting 40 million stem cells into the baby's lungs. "Usage of stem cells for this condition is not in compliance with ICMR guidelines or any existing rules and regulations," said Dr Geeta Jotwani, deputy director general of ICMR and national coordinator for Stem Cell Research and Therapy, a unit of ICMR. "There is no scientific evidence that stem cells can treat chronic lung disease. The hospital needed to take permission from the Central Drugs Standard Control Organisation (CDSCO) before using stem cell products."
On March 19 this year, the Union Health Ministry had notified the 'New Drugs and Clinical Trial Rules, 2019' which state that stem-cell derived products are to be used as "new drugs". "This means that any doctor who uses stem-cell therapy needs to take permission from the government," a Drug Controller General of India official told HT.
Doctors at Surya Hospital, however, said they were unaware of ICMR guidelines and had made the decision to use stem cell therapy "in good faith".
"Nothing had worked for this baby. X-rays showed his lungs had completely collapsed. Only 30% of the lungs was functioning," said Dr Nandkishor Kabra, director of the hospital's Neonatal Intensive Care Unit and who treated the baby boy. "Within two weeks of the treatment," doctors said, "the boy no longer needed a ventilator."
Dr Kabra added, "In March 2019, he was discharged with home oxygen therapy. We recently took that off and he has been doing well."
Surya Hospital director Dr Bhupendra Avasthi said that, following the treatment, the growth of the baby's lungs accelerated, and are now inflated. "The blood vessels and the alveoli (tiny air sacs in the lungs) also developed," he said. Dr Avasthi said researchers in many countries, including Korea and Canada, are in the process of conducting large-scale clinical trials to test stem cells in babies with chronic lung disease.
"Literature shows that stem cells therapy works for babies who have risks of developing chronic lung disease," Dr Kabra told HT. "We were initially sceptical of using stem cells as we knew it may not work, but we went ahead as the parents were firm that they wanted to give it a chance."
In this case, doctors used mesenchymal stem-cell therapy on an experimental basis after permission from the hospital's ethics committee. Mesenchymal stem cells are found in bone marrow, the umbilical cord and other tissues, and are being studied extensively as they have the ability to differentiate into several cell types, making them potential therapeutic options.
The baby's parents said they consented to the therapy as no other treatment option was available. "We knew the outcome was not certain, but we were willing to give it a chance," said the boy's father, a chartered accountant. He said he procured the stem cells from "a pharmaceutical firm", but refused to divulge its name or the procurement procedure.
According to Indian Council of Medical Research guidelines, mesenchymal stem cells can be used only for clinical trials. "It is unclear how the parents procured the stem cells," Dr Jotwani said. "If the stem cells were procured on compassionate grounds, they still need permission from the Drug Controller General of India."
A senior neonatologist from civic-run Lokmaniya Tilak Municipal General Hospital told HT that she had not heard of any doctor using stem cells as a therapy to treat chronic lung disease. "It is still in an experimental stage and there is no FDA approval yet," she said. "However, this seems to be an extremely difficult case and the doctors were on the verge of giving up. Perhaps, then, the use is justified," the doctor added.
Dr Jotwani also questioned hospital's decision to publicise the case without having data from a proper scientific trial. ICMR guidelines say that "advertising and publicity through any mode by clinicians is not permitted as per Chapter 6 of the Indian Medical Council (Professional Conduct, Etiquettes and Ethics) Regulation. It is mandated that the MCI and Medical Councils of respective state should initiate action on the erring clinicians for violation of code of ethics prescribed."
When asked about this, Dr Avasthi of Surya Hospital said, "We did not want to be termed as heroes. We did it in good faith, and completed the procedure free of cost."
"Exciting news! Hindustan Times is now on WhatsApp Channels
Subscribe today by clicking the link and stay updated with the latest news!"
Click here!