Maha notifies flamingo sanctuary at Thane creek
The notification, however, allows right of way for construction, operation and maintenance of seven transmission lines — three from MSETCL and four from Tata Power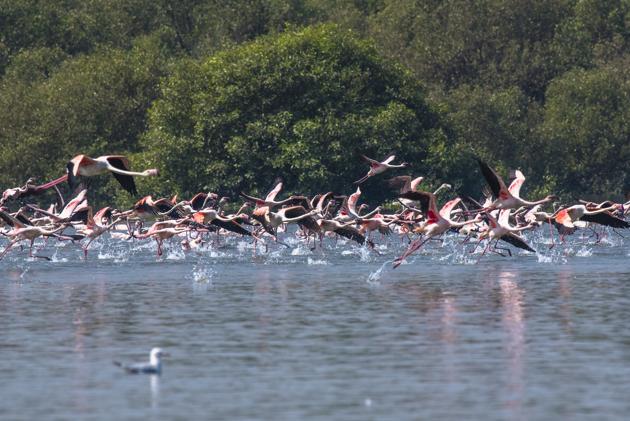 Published on May 22, 2018 12:12 AM IST
Hindustan Times |
, Mumbai
Badri Chatterjee
Less than three years after the state declared its intention to establish an area of 1690.5 hectares (ha) in Mumbai suburban district as Thane Creek Flamingo Sanctuary, it issued a notification declaring the area as a flamingo sanctuary.
On May 10, the state issued a gazette identifying limits of the sanctuary across western-end of Thane creek with areas such as Mulund (143.16 ha), Vikhroli (257.35 ha), Bhandup (94.92 ha), Kanjur (264.87 ha), and parts of Mandale village (72.28 ha). Additionally, the creek area (revenue land) was identified as 794.48 ha, allowing total area of the sanctuary to be 1,690.52 ha.
The notification, however, allowed right of way for construction, operation and maintenance of seven transmission lines — three from Maharashtra State Electricity Transmission Company Limited (MSETCL) of 660 kilovolt (KV) and four from Tata Power (840 KV).
"Sub-Divisional Officer, Eastern Suburban, Mumbai has allowed right of way subject to terms and conditions specified by Chief Wildlife Warden, Maharashtra State," the gazette notification read.
"Now, we have settled all the rights. Earlier it was a notification of intention," said Virendra Tiwari, chief conservator of forest (Mantralaya), state forest department. "An enquiry was conducted by the deputy collector, eastern suburbs. All claims were settled and allowed the right of way for the transmission lines for two major power distributors, which is the only activity that has been allowed. They can carry out work and maintenance. Otherwise such activities are prohibited in any sanctuary area."
Ornithologists said it will have to be seen what technology will be used to protect the migratory path of these birds by the forest department. "These transmission lines have been there for many years all along the creek, and act as roost sites for several birds of prey and larger aquatic. However, there is always a chance of casualties due to electrocution or flying into them," said Sunjoy Monga, ornithologist and naturalist writer.
Mumbai Mangrove Conservation Unit (MMCU), under the state mangrove cell, will manage the entire sanctuary. "There is a process of demarcating any sanctuary through settlement of rights, and since the process is now completed, the area is a sanctuary in its true sense. It is a significant milestone, which will boost conservation," said N Vasudevan, additional principal chief conservator of forest, state mangrove cell.
In April, the mangrove cell began boat rides for citizens through the Thane creek to witness migratory and wetland birds that flock the site.
Species list of Thane creek
- 7 species of fish
- 3 crustaceans (crabs, lobsters, crayfish) and one edible bivalve (marine molluscs)
- 150 bird species (40,000 Flamingos and lakhs of wetland birds including waders, plovers Oriental Stork, Black-headed Ibis, Indian and Greater Spotted Eagles, White-bellied Sea-eagle, Eurasian Curlew, Black-tailed Godwit, Black-bellied Tern, Caspian Tern, European Roller, Indian Skimmer, Painted Stork and many others)
- 68 insect species
- 29 species of butterflies and moths
- 9 species of mangroves - Avicennia marina being the dominant one
- 37 species of phytoplankton - dominance of Skletonema, Thalassiosira and Rhizosolenia was recorded
(Source: Salim Ali Centre for Ornithology and Natural History and BN Bandodkar College of Science Thane and Bombay Natural History Society)
Close Story