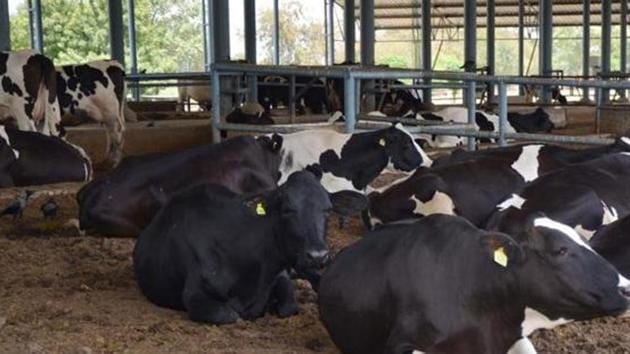 Maharashtra government tries to pacify agitating farmers by giving subsidy for milk powder
The drastic drop in the international prices of milk powder to $1,950 from $2,600 a metric tonne has resulted in the surplus of 26,000 metric tonnes
PUBLISHED ON MAY 06, 2018 12:26 AM IST
Responding to the ongoing seven-day strike by dairy farmers demanding a minimum support price (MSP) for milk, the state government is likely to announce subsidy for skimmed milk powder during a cabinet meeting next week.
The drastic drop in the international prices of milk powder to $1,950 from $2,600 a metric tonne has resulted in the surplus of 26,000 metric tonnes. The state's daily milk consumption is 94 lakh litres against the production of 132 lakh litres. The excessive milk (about 38 lakh litres) is used to make its by-products such as powder or butter. A fall in the export of powder has reduced the conversion of milk to powder. The cooperatives have been buying milk at Rs20-Rs25 a litre against the MSP of Rs27 a litre for cow milk.
Agitated over the fall in the procurement price, farmers under the banner of Milk Producer Farmers Action Committee started the seven-day protest in Ahmednagar district on Thursday. They distributed milk free to protest low prices. To intensify their attack on the government, they have threatened to march towards Mantralaya, if corrective measures are not taken. The committee wants to take the agitation to other parts of the state.
CM Devendra Fadnavis said the government had taken serious note of the agitation and an appropriate decision would be announced in the next two days.
Dairy development and fisheries minister Mahadev Jankar said after legal action by the state government against many cooperatives, they had increased the procurement price. The state government has announced a 70:30 formula for profit sharing between farmers and milk cooperatives.
Close