Maratha stir turns violent in parts of Maharashtra; Mumbai peaceful
The protests were called, after Maratha outfits insisted on the government giving them a written assurance.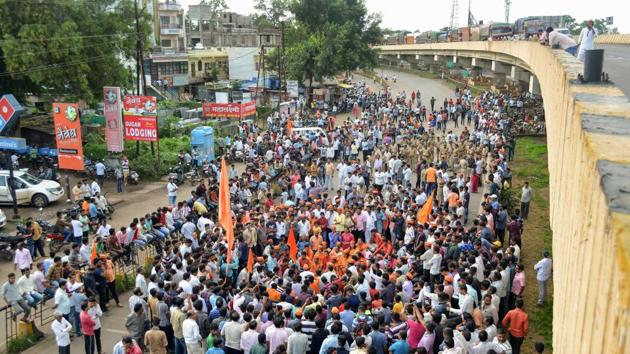 Updated on Aug 10, 2018 12:38 AM IST
Hindustan Times |
, Mumbai
HT Correspondents
In several districts of Maharashtra, the statewide bandh called by Maratha outfits under the Maratha Kranti Morcha turned violent again on Thursday, with agitators damaging vehicles, setting some of them on fire and throwing stones. While Mumbai remained largely unaffected, districts such as Pune, Aurangabad, Latur, Nagpur and Hingoli reported incidents of violence. Several factions called for the bandh, despite CM Devendra Fadnavis' announcement on August 6, promising the Marathas a decision on their demand for reservation by November. Fadnavis had also stayed a recruitment drive to fill 72,000 vacant posts in government jobs — another one of the community's demands.
The protests were called, after Maratha outfits insisted on the government giving them a written assurance.
In Pune, the police used teargas and batons to control a mob that ad turned violent in the Chandni Chowk area. A group of protestors also attacked the Pune collector's office.
In Mumbai, the bandh called by one faction had little impact, as buses and local train services ran on time, taxis and autorickshaws plied on roads, and most shops were stayed open. The police, however, deployed its forces across Mumbai and its suburbs. The Maharashtra State Road Transport Corporation did not run its intercity buses fearing vandalism. Further, the police detained Amol Jadhavrao, the coordinator who called the Mumbai bandh, on Thursday morning, and only let him go in the evening.
"Many of our activists were detained. Despite that, we managed to observe bandh at Kings' Circle, Kurla, Chembur, Andheri and Borivli," Jadhavrao said. A sit-in protest organised by another faction, outside the Mumbai suburban collector's office, also ended peacefully. Around 800 protesters from the Maratha community gathered for the sit-in.
Protesters from across Mumbai, Navi Mumbai, and Thane turned up for the protests in Mumbai, sporting black bands on their eyes, mouths and wrists, as part of a 'Thiyya andolan', or sit-in protest. Sanjay Gharge, a resident of Bhandup,said, "This is the peaceful protest organised by Marathas. We are not causing any damage to public property, or causing a law and order issue. Yet the government has refused to heed to our demands. The black band on my eyes symbolises the government's unwillingness to acknowledge and see us."
Dilip Patil, the Mumbai president of the Maratha Mahasang, had an upside down photograph of the chief minister tied around his neck. "It appears the chief minister is not thinking, despite the multiple protests. In such cases, it is prescribed for more blood to flow to the head, for clarity of thought."
Kolhapur, Jalna, Akola, Yavatmal, Beed, Amravati, Osmanabad, Dhule, Ahmednagar, Solapur, Wardha and Sangli also saw protests, with agitators blocking the Latur-Barshi, Mumbai-Pune, Pune- Bangalore, Jalna-Aurangabad, and Latur-Tuljapur highways. Protestors stopped the Coimbatore Express at the Lonavala railway station. Services were disrupted for 10 minutes. At Latur, Congress MLA Trimbak Bhise was manhandled by agitators during a protest. Some of them pelted stones at his car. A fire brigade vehicle was also attacked, injuring seven firemen. At Hingoli, protestors set two vehicles on fire. In Jalgaon, protestor Suresh Marathe tried to immolate himself with kerosene but was stopped by a few others. In Nagpur, protestors lied down on railway tracks in front of a fast moving train, but they were saved by the police force. In Aurangabad, a mob set a private vehicle and a police car on fire.
From August 10, Maratha outfits have planned a non-cooperation movement across the state until their demands are met. Sanjiv Bhor Patil, the state coordinator, said this means the community will not pay power bills of agriculture pumps and taxes, among other things.
Patil said he believed the cases of violence were being orchestrated by a few people to "defame" the community. "We have requested the community not to indulge in violence. Despite that, the violence we saw... it looks like some miscreants were involved to defame our agitation," he said.
Close Story