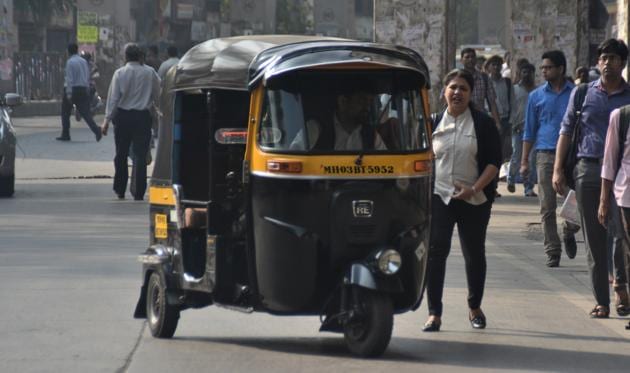 Mumbai auto drivers' union demands fare hike by
₹

3

According to RTO sources, however, even though the unions have sought huge fare hikes, there will not be any immediate hikes.

Hindustan Times | By Kailask Korde

, Mumbai

PUBLISHED ON MAR 03, 2017 01:33 AM IST
The Mumbai Auto Rickshaw Taximens Union — one of the major auto rickshaw unions in the state — has sought a fare hike by Rs3 in minimum fare. This was the fare bracket which was suggested by the one-member Hakim panel in 2012.
The leader of the union Shashank Rao said that, according as per the Hakim panel's original formula, the minimum fare of auto rickshaws for first 1.5km should be Rs21 instead of existing Rs18. Also, the fare per kilometer should be Rs14, instead of Rs12.19, said Rao.
The union had put forth this demand in front of a state-appointed panel led by former IAS officer BC Khatua. The panel has been given the responsibility to review the fare revision formula that Hakim panel came up with in 2012.
The panel is likely to submit its report on the basis of discussions, representations and demands made by various auto rickshaw and taxis unions across the state.
Claiming that the amount of money earned by auto rickshaw and taxi drivers have declined since the government failed to regulate app-based taxis of aggregators, the union also demanded a "one trade, one policy" for all types of autos and taxis including the app-based ones. "If the government does not want to regulate them (Ola, Uber), then it should neither regulate fares of autos and taxis nor their numbers. Let us charge fares arbitrarily too," said Rao.
According to RTO sources, however, even though the unions have sought huge fare hikes, there will not be any immediate hikes. It is because even if the panel suggests any revision in Hakim panel formula, the government will first have to accept the panel's report before considering a fare hike.
Also read: Bombay HC revokes Marathi language rule for auto and taxi licences in Maharashtra
Close