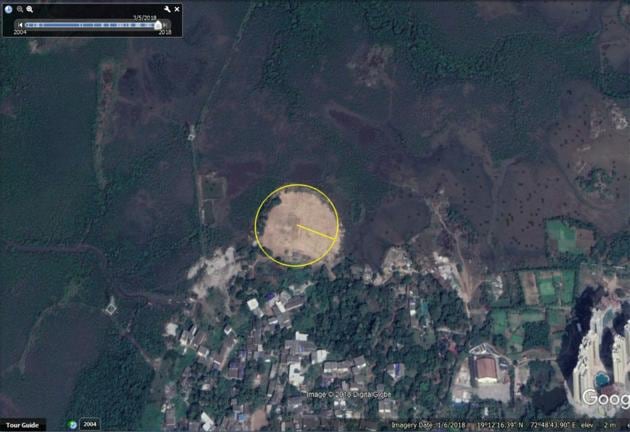 Mumbai civic body asks cops to take action against 2 men for destroying mangroves in Charkop
In another notice, the BMC has asked the cops to take action against an RMC plant
PUBLISHED ON APR 05, 2018 10:17 AM IST
The Brihanmumbai Municipal Corporation's (BMC) building and factory department on Wednesday issued two notices to the police, asking them to take action against two men and a ready-mix-concrete (RMC) plant for allegedly destroying mangroves at Dingeshwar temple, Sector 2, Charkop in Kandivli (West).
Vivek Keni and Sanjay Bhandari are local resident and members of the Charkop Koli Samaj Gramastha Mandal (CKSGM). According to the notice issued by the R-South ward, they are responsible for dumping debris, leading to the destruction of a 4-acre mangrove patch. HT has a copy of the notice.
Keni and Bhandari have refuted BMC's claims. "We are constructing a temple in this area, but we have not destroyed any mangrove trees nor dumped debris at the site. We are being wrongly framed," said Keni, president of CKSGM.
"There are several other illegal hutments and shanties that are regularly being built by destroying mangroves. How has the BMC come to this conclusion that we are responsible for this? It is false," said Bhandari, treasurer of CKSGM.
HT had reported on March 7 that mangrove cover 15 times the area of Wankhede stadium was lost across three locations in Mumbai. The report was based on a complaint by city-based environmentalist Reji Abraham. One of the three locations was Charkop where destruction had taken place but action was pending. At the remaining two locations — Indian Navy Station, Hamla in Marwe and Evershine Nagar, Malad — the Mumbai police have filed first information reports (FIRs).
The notice asked a senior inspector of Charkop police station to take action against Keni and Bhandari, who violated the Maharashtra Regional Town Planning Act (MRTP), 1983. "On March 31, I have visited the premises at the open plot owned by the district collector near Dingeshwar temple in Charkop and found that the accused Vivek Keni and Sanjay Bhandari carried out development through unauthorised mass filling by debris and earth, and are illegally using the portion of land," read the notice undersigned by SB Rajadhyksha, assistant engineer of the building and factory department, R-South ward. When HT visited the spot, large tracts were covered with debris along with several shanties located less than 50 metres from mangroves.
In the second notice, the BMC identified illegal constructions being carried out on mangrove land through an RMC plant, and asked the police to investigate if the plant and vehicles plying there are legal.
The Charkop police said they will initiate action in line with the BMC's directive. "We will carry out an on-site investigation, and tally details by submitting a punchnama and a notice with the ward officer. Further action will be taken and a case filed against the accused," said Pramod Dhavre, senior inspector of Charkop police station.
Close