Mumbai's pothole horror: Why is the civic body filling in for contractors?
If a contractor responsible under the defect liability period fails to repair the road, the BMC does it.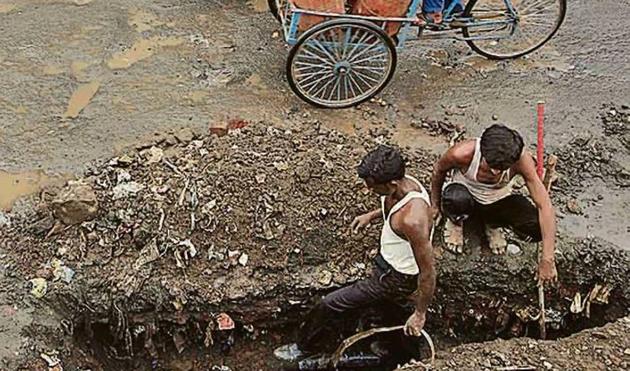 Published on Aug 02, 2018 12:12 PM IST
Hindustan Times | By Steffy Thevar
, Mumbai
Taxpayers' money is often used to repair roads for which a contractor is legally responsible as the latter reason that the road was dug up to lay utilities or that they cannot repair it till monsoon gets over. Result? The civic body repairs such roads during the defect liability period (DLP), when the contractor who made the road is responsible for it. Mostly, these repairs, which are temporary, leave the roads susceptible to more damages and increased expenditure.
Chief engineer (roads), Vinod Chithore, accepted that if a contractor responsible under DLP fails to repair the road, the civic body does it.For example, although the Saraswati Road junction in Bandra (West), was concretised in 2016 and has a DLP of 10 years, it was repaired by Brihanmumbai Municipal Corporation (BMC) in July. An engineer from H West (Bandra) ward said, "The road was dug up by BMC to lay down a utility and was not repaired by the contractor. So, we had to."
Local corporator, Alka Kerkar, said, "Although the road comes under DLP, we repaired it as we don't want any mishaps." She said the ward officer will be asked to penalise the contractor. BMC spent nearly ₹23.45 crore to concretise three roads — Saraswati Road junction, 13th Road in Khar (West) and Rangsharda Auditorium Road in Bandra (West).
Meanwhile, activists slammed BMC for buying contractors' excuses and undertaking the repairs. Local activist Zoru Bhatena said, "The same patch was repaired five times in two years. 7th Khar Road, built in October 2017, was also damaged soon and repaired by BMC using paver blocks. BMC is spending public money."
Local activist, Godfrey Pimenta said Marol Church Road, made two years ago, was repaired in April, and then again in June by BMC. A BMC engineer from K East ward (Andheri), said, "A contractor, Maindip Enterprises, was blacklisted. We have forfeited his deposit and now BMC is repairing the road." Pimenta said there are many other such roads. "The Chakala junction which was turned into an asphalt road recently, was repaired again by BMC and now loose gravel is coming out. Similarly, on Hanuman Marol Gaothan Road, which was made in April, BMC is laying paver blocks to level it off."
However, a ward official said, if a road under DLP is dug up to lay utilities, the contractor is not responsible. "The utility-provider must pay for damaging the road and BMC has to repair it." The DLP is applicable only to the road that the contractor built and not for the base that is damaged because of some other reason, he said.
A deputy municipal commissioner, requesting anonymity, said, "We have asked our staff to repair roads in case of complaints and if the contractor refuses to do so." Bhatena however, said, such shoddy work is the way ward-level officials make money.
Close Story