Shakti Mills juvenile rape convict now a habitual offender, arrested for third time in Mumbai
Akash Jadhav's repeat offences have put paid to expectations that he would emerge a reformed man from the Nashik home.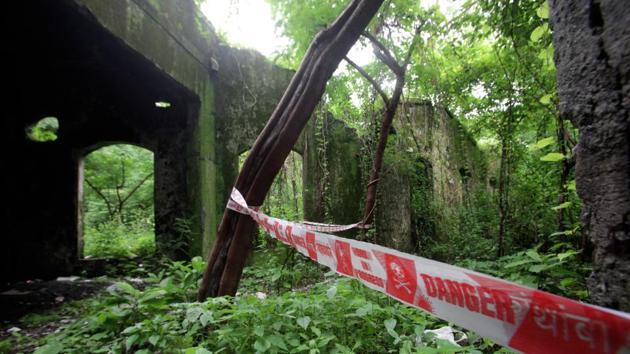 Updated on Apr 03, 2018 05:17 PM IST
Hindustan Times |
, Mumbai
Vijay Kumar Yadav
After being sent to a correction home in Nashik for three years for gang-raping a photojournalist in 2013, Akash Jadhav, then 17 years old, showed remorse and promised his parents to steer clear of criminal activities.
Cut to 2018. Jadhav — a resident of Saat Rasta in Mahalaxmi — dreams of ruling Mumbai by forming an underworld gang, exhorts youth to join it, and fearlessly extorts and assaults people. His repeat offences have put paid to expectations that he would emerge a reformed man from the Nashik home.
The 22-year-old's latest brush with the law came when he allegedly assaulted a 48-year-old man from Mahalaxmi. He was arrested for a third time since his release from Nashik Borstal School in July 2017.
"Jadhav has become a habitual offender. Three years confinement for the gang-rape did not deter him from committing crimes. It appears that he has no fear of the law and continues to indulge in some criminal activities. This is the third criminal case against him since his release from the remand home," said an officer from Agripada police, where the latest case was registered against Jadhav.
His two friends, Akash Gadkari and Siddhesh Tondwalkar — all residents of Saat Rasta and Dhobi Ghat — were also arrested on Thursday. The complainant, Balaram Kadam, is also a resident of Saat Rasta.
According to the Agriapda police, Kadam was assaulted at 2am on Thursday when he was returning home from work. Jadhav, Gadkari and Tondwalkar waylaid and bullied him. "When Kadam resisted, the three started assaulting him. They abused, punched and kicked him. They threatened to kill him, if he ever crossed their path," said a police officer. The three fled the spot, leaving Kadam, he added.
Acting on Kadam's complaint, the police have registered a case against the three men under sections 324 (voluntarily causing hurt by dangerous weapons or means), 323 (punishment for voluntarily causing hurt), 504 (intentional insult with intent to provoke breach of the peace), 506 (2) (criminal intimidation) and 34 (common intention) of the Indian Penal Code (IPC). By evening, the three men were arrested.
As an adult, he was first arrested for assaulting a man from Lower Parel, two months after his release from the Nashik home.
He exhorted youth to join his gang
Two minor, including Akash Jadhav and four adults— Vijay Jadhav, Mohammed Qasim, Salim Ansari and Ashfaque Shaikh — were arrested for gang-raping a 23-year-old photojournalist at defunct Shakti Mills compound on August 22, 2013
Jadhav, who is 22 now, is a school dropout and a drug addict
In July 2014, the Juvenile Justice Board (Mumbai city) ordered that Jadhav and another minor be sent to Nashik Borstal School for a period of three years — the maximum period permissible under the Juvenile Justice Act, 2000
Jadhav's parents had earlier said that their son had showed remorse when he was at the correction home
He started studying and enrolled himself in various vocational training courses
He also began writing poems and drawing sketches
He got first-class marks in Class 10, through distance learning. He also performed well during vocational courses for two-wheelers, air-conditioner and refrigerator repairs.
In July 2017, he and the other minor in the case were released from Nashik Borstal School
Cases against him
Two months after his release from Borstal School, Jadhav was arrested by the NM Joshi Marg police for assaulting one Ajay Matkar on Boricha Marg at Lower Parel in September 2017
He and his associates had asked Rs50,000 from Matkar and his brothers
This followed an altercation between Matkar and Jadhav. In a fit of rage, Jadhav banged Matkar's head into a car parked on the road
Jadhav was booked for voluntarily causing grievous hurt
After the victims filed a case against him, Akash and his friends attacked them again with a chopper
This resulted in registration of another case for attempt to murder, and Akash was arrested again
Jadhav was also wanted by the Agripada police in a kidnapping and extortion case
'Bombay Bhais'
Police sources said when Jadhav was arrested last time during a probe it was found that he had allegedly formed a group on WhatsApp called "Bombay Bhai"
The group exhorted youngsters to join the gang and promised to make them "bhais", or big brother (A word commonly used in the underworld)
Jadhav and his friends used to post messages in the group about "ruling Mumbai"
They almost convinced 10 youth to join the gang
They used to brainwash the boys telling them to become "bhais" to earn easy money and respect
Topics
Close Story