Orchestral symphony is very interesting: Pandit Jasraj
Sangeet Martand Pandit Jasraj was recently honoured with Sumitra Charat Ram Lifetime Achievement Award at Kamanai Auditorium, New Delhi, on November 17. We caught up with him over matters of music and art.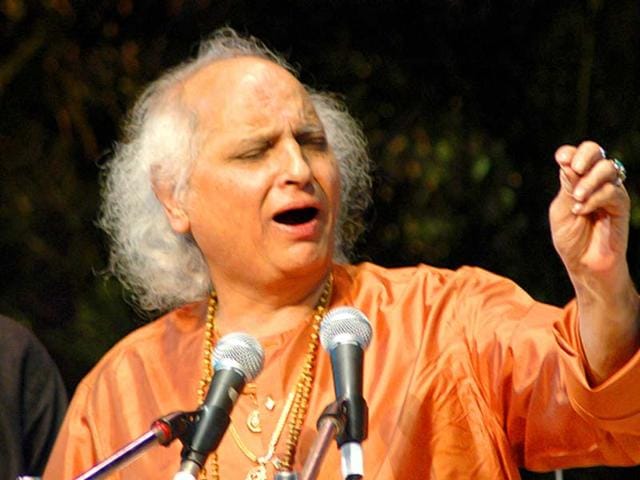 Updated on Nov 18, 2014 02:14 PM IST
Hindustan Times |
, New Delhi
Debarun Borthakur
How many of you will agree that a discussion on Indian classical music is incomplete without the mention of Sangeet Martand Pandit Jasraj and his soulful 'gayiki'?
Every time someone talks about lucid rendition of poignant raags dipped in devotion, Panditji's name is sure to get a mention. At a time when a new genre or vocalist pops up by the second, Panditji's name is like that of 'the grand old man of Indian classical music' – a name that has and will always remind one of the rich classical musical tradition the country boasts of.

Panditji, in his illustrious career, has been felicitated numerous times with awards. Be it Padam Vibhushan, Padam Bhushan, Padam Shree, Sangeet Kala Ratna, Sangeet Natak Akademi Award, you name it and Panditji has it. For a man who has dedicated his entire life to Indian classical music unconditionally, awards do signify how his resonant voice has touched numerous admirers of Indian classical music over the years.

Adding yet another feather to his celebrated cap, the proponent of Mewat gharana was honoured with Sumitra Charat Ram Lifetime Achievement Award at Kamanai Auditorium on November 17.

In a candid chat with HT, Panditji spoke about the state of Indian classical music in today's age of technology, how his music has changed over the years and why he would prefer to keep away from Bollywood. Here is an extract:

Namaskar Panditji. You have been hounoured with numerous awards, so, what does this award means to you?
For an artiste, every award is important. I am really hounoured to receive this lifetime achievement award as I know how much Sumitraji (Sumitra Charan Ram) has done for music. She has patronized a lot of musician in her lifetime. It is not that she inherited it; she started everything from the scratch.
Today, in this age of technology, how will Indian classical music adapt to the changes happening around it? Has technology been of any help?
The way I perceive it, technology is a very helpful medium. For example, when you were young we used to find it very difficult to remember what improvisations we made on stage or what impromptu changes we made while doing riyaaz. But, thanks to technology, today one can remember note to note what he/she has sung – be it on stage or off it.
You have been singing for many years now. A lot has changed over the years; did any of the changes affect your music? Did your music change with the changing times?
The way I see it is – whatever doesn't change is lifeless. However, one shouldn't bring that change into oneself forcefully, but should embrace and respect it naturally as it comes. I don't know what changes have come into my music; it's for my audience to know.
If you have to draw a parallel between Indian classical music with something similar in the West, what kind of music would that be and why?
I think West's orchestral symphony is something very interesting. At the same time our music is both scientific and yet it touches the heart.
Today a lot of musicians are into fusion music – basically, blending Indian classical musical elements with contemporary music. What's your take on it?
I haven't tried doing any of that. If my age today was 25 years, I probably would have done something like that.
Your association with commercial music, or Bollywood to be precise, has been very marginal. Except a few song (recently in the movie 1920), you didn't sing in many Hindi movie soundtracks. Why?
In fact I never tried to indulge in it. I have taken a pledge that I won't do anything which has nothing to do with classical music. As far as monetary gains are concerned, let me tell you, I have survived with just Rs 25 with me and hence it is not everything to me. As you know, my wife is V Shantaram's daughter, if I wanted, I could have done a lot of things; but I didn't.
Do you agree that unlike yesteryears, lyrics in commercial Hindi cinema's soundtracks have deteriorated?
Well, lyrics are about what are in demand. Today's lyricists write what people want to hear. Let's not elaborate on it.
Close Story