Ghaziabad's residential areas to get water ATMs before summer
The Ghaziabad municipal corporation will install water purifiers in the form of water ATMs across residential wards in five zones.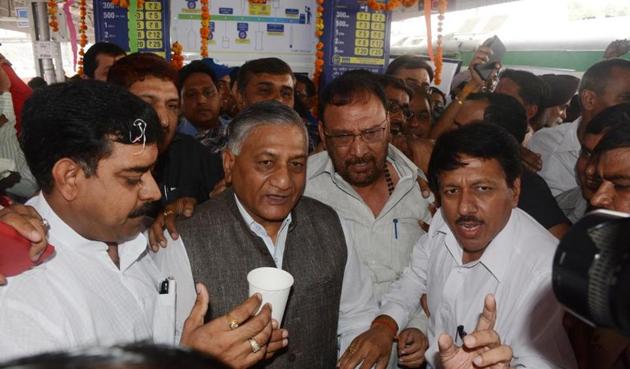 Published on Jan 09, 2017 11:37 AM IST
The Ghaziabad municipal corporation (GMC) will install water purifiers in the form of water ATMs across residential wards in five zones. Officials said that the proposal is finalised and the work will start post-elections in March.
They said that the project was already in place in few areas. Five mobile water ATM units were installed in June 2016 at public places.
"The project is undertaken by the waterworks department of the corporation. These machines used to provide a litre of water but will now provide more quantity as a majority of the population has no access to water purifiers. We have planned one in each ward and more can also be provided. The tender was already floated and contractors are selected. Only the work is to be started," Ashu Verma, city mayor, said.
"A committee was also formed to finalise tariffs. These water ATMs will provide 5 litres of room-temperature water for ₹20. We can later provision them for supplying 1 litre and also a glass of chilled water. These fixed machines will be installed at locations with high population density. Mobile ATMs will also be roped in to serve chilled water and one litre supply," he said.
Fixed water ATMs set up in Khoda Colony have been of a major help for residents to procure clean drinking water. The project was inaugurated by Ghaziabad member of Parliament General (retired) VK Singh in July 2016.
According to official estimates, the corporation has nearly 2.35 lakh water connections in five city zones and the agency supplies nearly 388 MLD of water per day. There is a high volume of total dissolved solids in water in trans-Hindon areas of the city and residents have installed water purifiers and RO systems to get safe and clean water.
The UP Jal Nigam officials said that only 11% of the state's population is covered under the piped water supply.
Besides the corporation supply, the city also receives a supply of Ganga water from the 50 cusec and 100 cusec plants. A third plant, of 50 cusecs, is under construction while the Jal Nigam has proposed another such plant at Sahibabad.
Close Story