Last-mile connectivity a major issue on yet-to-open 9.4km Ghaziabad Metro line
Sep 23, 2018 03:42 AM IST
The line is expected to open by November and will cater to nearly one lakh passengers, DMRC officials said
The new 9.41km Metro link connecting Ghaziabad's New Bus Stand with Dilshad Garden is likely to open by November as the Delhi Metro Rail Corporation (DMRC) has already started trials on the route. All eight Metro stations on this route, that are in Ghaziabad, are situated on the busy Grand Trunk Road, but the lack of last-mile connectivity has commuters worried.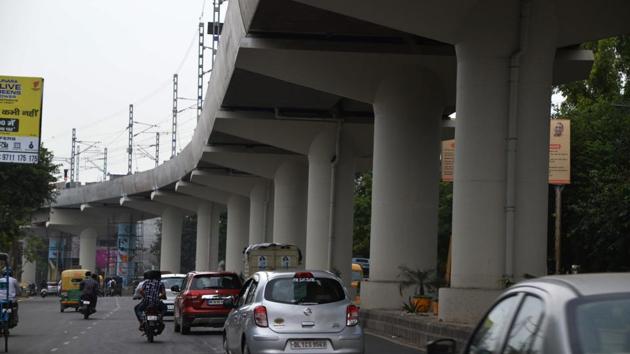 The route is expected to cater to nearly one lakh passengers daily as per the 2012-13 detailed project report. The ridership figures are expected to surge as well. The project is the first major Metro route in Ghaziabad that will cater to at least 20 major residential localities. But the lack of last-mile connectivity and its integration with the Metro stations is a major hurdle.
"For instance, the Metro station nearest to me is Raj Bagh Metro station, which is nearly 2km away from five or six localities near Shalimar Garden. There are no footpaths if commuters want to walk. There is no cycle track if anyone wishes to cycle to the nearest station. The other options are e-rickshaws, but they have no defined routes and there is no space available around the station where the rickshaws can pick up and drop passengers. If I use my own vehicle, there is no parking space available at or near the station," Jugal Kishor, a resident of Shalimar Garden, said.
Residents said that the areas of Rajendra Nagar, Raj Bagh, Shalimar Garden, Arthala, Lajpat Nagar, Bhopra and Mohan Nagar are near Metro stations, but there is no guarantee of autos and e-rickshaws being available when needed.
According to officials of the regional transport department, Ghaziabad has 12,000 registered autos and 168 private buses, besides nine lakh registered private vehicles and nearly 950 e-rickshaws.
"If I have to travel to New Bus Stand station, which is nearly 9.5km from my high-rise, I have to change autos at two locations. If I hire a direct auto, it will charge nearly ₹150. There is no last mile connectivity for residents to reach Metro stations," Namita Gaur, a resident of Crossings Republik, said.
City residents said they prefer to use their own vehicles due to lack of transport options.
"The agencies have failed to address the issue so far. It's time they provide comfortable and fast city buses to residents to travel to Metro stations. A major benefit is that all stations are on a straight path, on the GT Road. If city buses are provided, the route will be successful. There are private buses , but they are old and rickety. Usually, passengers prefer to not use them," Rajendra Tyagi, a councillor from Raj Nagar, said.
Other residential areas such as Govindpuram, Raj Nagar, Chiranjeev Vihar, Kavi Nagar, Vivekanand Nagar, Vijay Nagar, Crossings Republik and Nehru Nagar are situated far from the nearest Metro station — New Bus Stand — and connectivity to the station is erratic.
Residents said that the lack of last-mile connectivity options might lead to commuters preferring to use their own vehicles and skip boarding the Metro.
Earlier in June, in order to improve connectivity, the state government had approved the operation of 100 air-conditioned electric buses in Ghaziabad.
"The proposal is being worked upon by state officials to fix financial as well as other issues. We have no fixed timeline for its clearance," CP Singh, municipal commissioner, Ghaziabad, said.