Mayawati will become UP CM for the fifth time: BSP general secy in Noida
Published on Jan 24, 2017 11:20 PM IST
BSP leader Nasimuddin Siddiqui said in Noida that party chief Mayawati would become UP CM again in the polls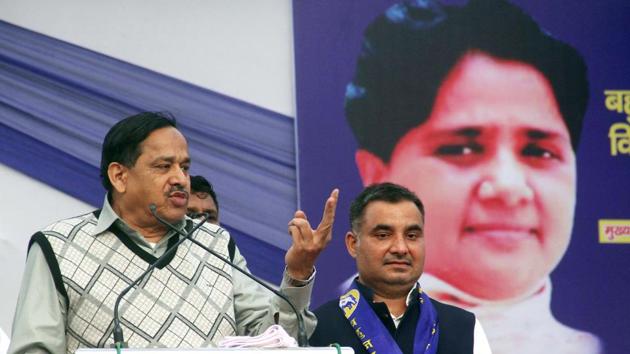 The national general secretary of the Bahujan Samaj Party (BSP), Nasimuddin Siddiqui, addressed a gathering at a community centre in Sector 39 on Tuesday. He said that Prime Minister Narendra Modi will run away to Gujarat once party chief Mayawati becomes the state's chief minister for the fifth time in this election.
Siddiqui, who is considered close to Mayawati, called demonetisation 'economic emergency' that troubled the general public, including housewives who are in the habit of saving money.
"Our mothers and daughters had to stand in long bank queues for no gain in the demonetisation exercise that was a stupid step by the Central government. In 1975, Congress' then Prime Minister Indira Gandhi brought Emergency and nasbandi (vasectomy). In 1977 elections, people taught Congress a lesson. Now the same is going to happen with Narendra Modi in the 2017 elections," he said.
The BSP has fielded first-time candidate Ravikant Mishra, 40, from the Noida assembly seat. Siddiqui appealed people to vote for his party and elect Mishra.
"Samajwadi Party leader and UP CM, along with his father Mulayam Singh, orchestrated a family drama to wipe out his sins of the last five years. People are not fools and will reply in elections (Ye janta hai ye sab janti hai). Son expelled father. Father expelled son. All this drama is to hide riots, rapes, goondaism, lawlessness and corruption by the SP family. But people have not forgotten the riots in Muzaffarnagar, Masuri, Ayodhya and other cities," he said, asking people to vote for BSP if they want better governance and development.
Taking a dig at the SP's alliance with the Congress, he said the SP is weak and hence in need of support.
"Who seeks support? Someone who is weak. But Congress is a sinking ship and will sink SP too (hum to dubenge sanam, tumko bhe le dubenge). Vote for Behan Mayawati because she is a symbol of governance and development," said Siddiqui.
"BJP spent Rs25,000 crore on a political campaign and Narendra Modi became Prime Minister. They fooled people with the promise that good days will come and black money will be brought back and distributed among poor. Modi says he was a tea seller. Then how did he manage to get Rs80 crore that he has spent on his clothes. He says he sacrificed his family for the nation. Then why does he boast about it? The greatest sacrifice has been made by Behan Mayawati, who considers 'Sarv Samaj' as her family and works for it," said Siddiqui.
He also told people not to vote for Pankaj Singh as he will not be able to give people time.
"Rajnath Singh was Ghaziabad MP for five years, but he was missing for five years for the people there. His son, being a VVIP too, will remain busy in other jobs and will not have time to resolve issues of people in Noida. The BSP candidate can give time to people here in Noida," he added.