4 Galgotias students killed, 6 injured in car mishap on Yamuna expressway
Oct 09, 2017 10:11 AM IST
A car crash killed four students of Galgotias University and injured six of their friends when their multi-utility vehicle went out of control after a front-wheel tyre burst on a stretch along the Yamuna Expressway on Sunday.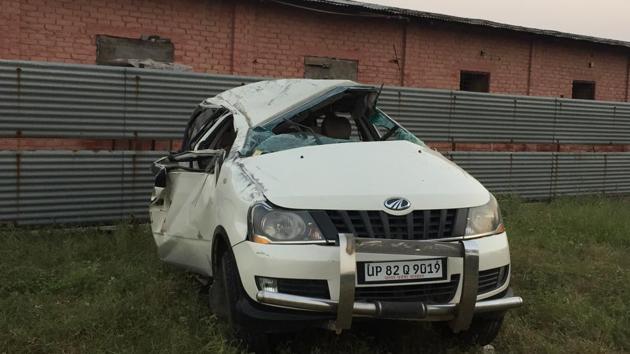 The ten students were on the way to Pari Chowk from the university around 2pm.
The deceased were identfied as Salman, 22, Tushar, 22, Ayush 19, and Balram, 20. They were from Patna, Greater Noida and New Delhi.
The injured are Vaishali, Saumya, Simran, Prerna, Sharif and Jayesh. Vaishali and Saumya are in battling for their lives at the intensive care unit of Kailash Hospital in Greater Noida. They suffered grave head injuries.
"The condition of the two women is critical and a team of doctors is attending to them. The four dead men had severe cuts in their heads," said SRA Rizwi, the hospital's chief casualty officer.
Police said Tushar, who was driving the car, tried to overtake a truck near Noida International University but lost control because of a burst tyre. The car collided with the road divider and toppled thrice, throwing most of the passengers out through the windows.
Ankit Aggarwal, who was driving behind the vehicle, was the first responder and called police.
He found the students bleeding and unconscious on the road, and took four of them to hospital.
"The car toppled in front of me and everyone was on the road. I informed police and did not wait for them. I thought it would be better to take those able to speak so that their lives are saved," said Aggarwal, who works with a flour marketing agency.
The others were taken a police van to hospital. But four of them were declared dead on arrival.
Police officer Farmood Ali Pundir said: "Jayesh and Ayush were students of BTech first year. The others were in first-year honours students of psychology."
It took some time to identify the students and inform their families.
The family members of Tushar and Ayush reached the hospital soon after.
Tushar was living with his uncle, Dheeraj Gupta, in Greater Noida. Gupta is a supply officer of Dankaur block and had gone to his village in Etah.
Tushar took his uncle's car and went to the university.
His friend, Krishna, said: "Tushar called me and another friend, Varun, to reach Pari Chowk. We had plans to visit Ansal Plaza in Greater Noida and watch a movie. As we reached Pari Chowk, Simran who was injured, called us and informed about the accident."
The friends had enrolled in the university three months ago.