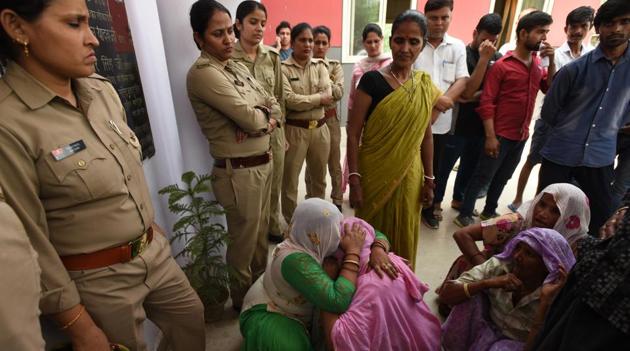 Noida family claims woman died after torture in police custody, cops deny
Police officials denied the woman been detained and said she fell sick while she was at the police station demanding her husband's release.
Hindustan Times | By Tanmayee Tyagi
, Noida
UPDATED ON MAY 02, 2018 09:22 AM IST
A woman, whose family members claimed she was allegedly detained in a theft case along with her husband, died in Noida on Tuesday morning, prompting outrage and claims of illegal detainment.
Police officials, meanwhile, denied the woman been detained and said she fell sick while she was at the police station demanding her husband's release. She died later at a hospital, they said.
Family members alleged that Kavita and Sattan Yadav, along with their two kids, were picked up by the police on Sunday afternoon from their house in Hoshiyarpur and were then tortured in police custody. "The whole family was picked up by the police for questioning. In the evening, my husband went to the police station and brought the kids home," said Kamlesh, Sattan's sister.
Relatives claimed police officials had allegedly demanded a bribe of Rs 5 lakh to free the couple. "Two police constables had asked us for Rs 5 lakh as a bribe to free my brother and his wife," said Krishna, Yadav's sister, also a resident of Hoshiyarpur.
Police officials denied the family's claims and said Sattan had been detained in connection with a theft at a guest house earlier this month. Jewellery worth Rs 20 lakh and Rs 50,000 in cash was stolen, the police said. Sattan had been arrested based on mobile surveillance, police officials said.
"He was arrested on Monday afternoon by the Sector 49 police after following due procedure. His wife had visited the police station and threatened to take extreme steps if her husband was not released. After a while, she started feeling unwell and was taken to a private hospital. She was responding well to the treatment. However, in the early morning hours her condition began to deteriorate. She was then shifted to a hospital with better medical facilities at around 5am on Tuesday where she was brought dead," said Ajay Pal Sharma, senior superintendent of police, Gautam Budh Nagar.
Police officials said they have recovered some of the stolen jewellery from Sattan's house. He has been granted bail on humanitarian grounds.
Sattan worked as a bus driver for a private school, while Kavita was a school attendant. Originally from Pilkhuwa, Satan and his family had been living in Hoshiyarpur for six years. "We are not looking for any monetary compensation. We want the responsible officials to be either suspended or to face due punishment," said Kamlesh.
Close