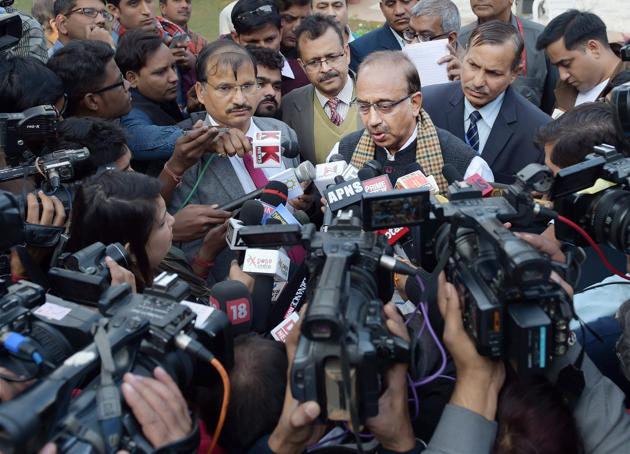 Indian Olympic Association banned; sports ministry says axe Kalmadi, Chautala
The Indian Olympic Association has been suspended for not replying to the showcause notice issued by the sports ministry on why it chose Suresh Kalmadi and Abhay Singh Chautala as life presidents
UPDATED ON DEC 31, 2016 01:42 AM IST
The Indian Olympic Association has been suspended for not replying to a sports ministry showcause notice that asked the body to explain why it had named Suresh Kalmadi and Abhay SIngh Chautala as life-presidents.
The sports ministry had issued the showcause notice on December 28, a day after the association's AGM in Chennai had unanimously decided to bring back former chiefs Kalmadi and Chautala as life patrons.
The sports ministry had given the Indian Olympic Association (IOA) three days to reply to the notice. That deadline expired on Friday. The IOA has sought a 15-day period to respond, saying its president N. Ramachandran "is abroad."
Sports minister Vijay Goel told reporters on Friday evening that the IOA was "being suspended" till Kalmadi and Chautala were removed officially. Both Kalmadi and Chautala have corruption charges against them.
"Sports is a public property and Indian Olympic Association has to abide by the laws of the land. It is not their personal property and do whatever they want," said Goel at his Ashoka Road residence.
Kalmadi has already taken a backward step, declining the IOA offer after he had come under heavy fire from several quarters that highlighted his tainted record as IOA chief.
In a letter to the IOA earlier this week, Kalmadi wrote the time to accept the role of life president was not "appropriate" and he will accept it when his "name will be cleared."
Earlier in the day, Narinder Batra, India's newly elected president of the world hockey federation (FIH), resigned from the post of associate vice-president of the Indian Olympic Association (IOA).
In a communication to Ramachandran and IOA secretary general Rajeev Mehta, Batra said even after three days of hastily nominating Kalmadi and Chautala, no action has been taken to withdraw the nominations. Batra also said the item of nominating wasn't even there on IOA's annual general body meeting agenda.
"Keeping in mind that you/IOA have not taken any action in withdrawing the nomination of Life President of IOA even after 3 days of the AGM, hence as an expression of my protest and objection against the decision, I hereby submit my resignation from the post of Associate Vice-President of Indian Olympic Association," Batra said.
Close