Super Boxing League: The ring saves Amitesh Chaubey from crime
A native of Gopalpur-Sangra village at the Mau-Ballia highway, Amitesh Chaubey, who fights for UP Terminators in the Super Boxing League (SBL), trained by punching sand bags at his home in Jankipuram (Uttar Pradesh).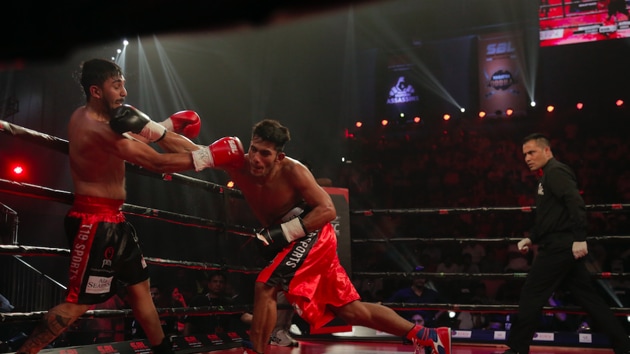 Updated on Jul 28, 2017 11:58 AM IST
The aggressive attitude of Amitesh Chaubey could have taken him into a path of crime had he not taken up boxing a few years ago.
Read more | Sri Lanka vs India, first Test in Galle, Day 3 live updates
With his passionate style of fighting, Chaubey, 26, a young pro boxer from Lucknow, is making his presence felt at the ongoing Super Boxing League, fighting for UP Terminators, owned by Bollywood singer Kanika Kapoor.
"It is true I was in a bad company during my college days. My life could have gone in a wrong direction had I not taken up sports, especially boxing, as this was what I liked most even during my teenage days," Amitesh told HT.
"I never hide anything in my life, especially when I hit somebody. That is why I once confessed before a judge that I had broken the jaws of a person who had duped me. Even during my school days, I have punched many adversaries," he added.
A native of Gopalpur-Sangra village at the Mau-Ballia highway, Amitesh trained by punching sand bags at his home in Jankipuram. However, he couldn't make it to the UP junior boxing team because of an injury he sustained during the training camp at the KD Singh Babu Stadium in Lucknow.
"I was among the probables and underwent 15 days of training, but I got my back injured during a bout. I had no option but to skip," he said, adding, "I kept trying hard and kept training even while pursuing my studies at the Government Inter College.
"My aggression was my biggest asset and some people tried to make use of my passion for their vested interest. I come from a poor family and have seen bad days, but I have always tried not to choose the wrong path," he added.
After graduating from Ballia, Amitesh wanted train under Jagdish Singh, where the likes of Vijender Singh had trained. But he could not secure admission and came back to Lucknow .
Amitesh tried his luck in MMA. He broke his ribs during his first fight in the Super Fight League (SFL) in 2012 but kept fighting till he won. He was later admitted to ICU for three days with a broken shoulder but this didn't dampen his spirit. His five wins, including three by knockout in the SFL in 2015, made him Fighter of the Year.
Gold medallist in kickboxing and in World Association of Kickboxing Organizations (WAKO) competitions, Amitesh has so far lost both his fights in the Super Boxing League but has won hearts with his unrestrained style of fighting.
Close Story