Sushil Kumar among four wrestlers exempted from Asian Games 2018 trials
The list of wrestlers who were exempted from the Asian Games 2018 trials were Olympic Games medallist Sushil (74kg), Rio Olympics bronze medallist Sakshi Malik (women's 62kg), Bajrang Punia (65kg) and Vinesh Phogat (women's 52kg)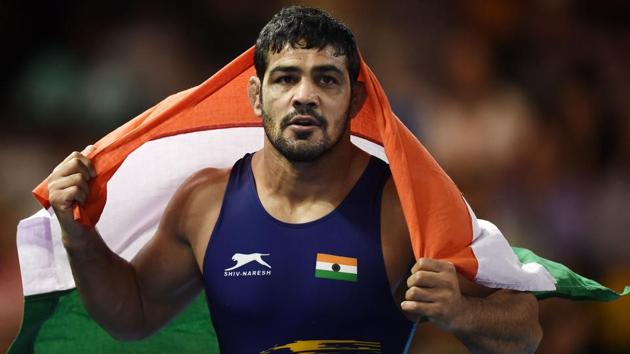 Updated on Jun 04, 2018 11:37 PM IST
Four top wrestlers, including Sushil Kumar, have been exempted from appearing in the selection trials and will get a free passage to the Asian Games team in Jakarta.
The Wrestling Federation of India (WFI) on Monday selected double Olympic Games medallist Sushil (74kg), Rio Olympics bronze medallist Sakshi Malik (women's 62kg), Bajrang Punia (65kg) and Vinesh Phogat (women's 52kg) for the Asian Games, starting August 18, without holding any trials in these categories.
Except Sakshi, all three wrestlers have won gold medals at the Gold Coast Commonwealth Games. Sakshi settled for a bronze.
ALSO READ | 'I cried for four days' - Steve Smith opens up about ball-tampering scandal
WFI assistant secretary Vinod Tomar said the four wrestlers are 'medal contenders' in the continental event and competing in the national trials will hamper their preparations.
"They are our top wrestlers and medal contenders in these categories. Trials will be a distraction for them. Therefore it has been decided to select them without holding trials in these categories," Tomar said.
He said WFI has spoken to the coaches in the camp and taken their feedback before making their mind. "It will be meaningless to push them for trials. There is nobody in the domestic scene currently to push them. The feedback from the coaches in the camp indicates that. Hence we don't want them to take a break from training," Tomar added.
The feedback is based on the performance of wrestlers in the last three major internationals including April 4-15 Gold Coast Commonwealth Games and February/March Asian Wrestling Championships held at Bishkek in Kyrgyzstan.
Other wrestlers attending the national camp however, will go through the routine selection process to earn their berths for the Asian Games. The selection trials in men's freestyle and Greco roman will be held on June 9 at Sonepat (Haryana), while trials in the women's category will take place a day after on June 10 at Lucknow (Uttar Pradesh).
According to WFI Sushil's main challenger Parveen Rana is yet to fully recover from a knee injury he sustained during a local competition in March. "He has taken a break," said a WFI official.
ALSO READ | Viswanathan Anand holds Magnus Carlsen, stays in title contention at Altibox Norway Chess
The trials for the Commonwealth Games had turned ugly with supporters of Sushil and Parveen engaging in a brawl at the venue and police had to be called.
In the previous edition, Sushil had skipped the Asian Games in Incheon, after winning gold in Glasgow CWG. Parveen replaced injured Sushil for the Asian Games.
Since men's 70kg freestyle bout doesn't feature in the Asian Games competition, some wrestlers wanted to try their luck by competing in 74kg. The WFI, however, buried speculations saying no one will be allowed to change their weight categories.
"We are also preparing the national team for October 20 to 28 World Championships to be held at Budapest, Hungary. Hence those who miss a chance in the Asian Games can compete in trials for the Worlds," Tomar said.
Close Story