New corporation to take over hitherto 'mafia-ruled' sand trade in Bihar
Sep 15, 2017 07:36 PM IST
To be called the 'Bihar minerals corporation', the new body is likely to be registered in a day or two.
The Bihar government is setting up a new corporation, to replace the existing Bihar state mineral development corporation (BSMDC), in existence since 1972, to regulate the sale of sand and other minerals in the state.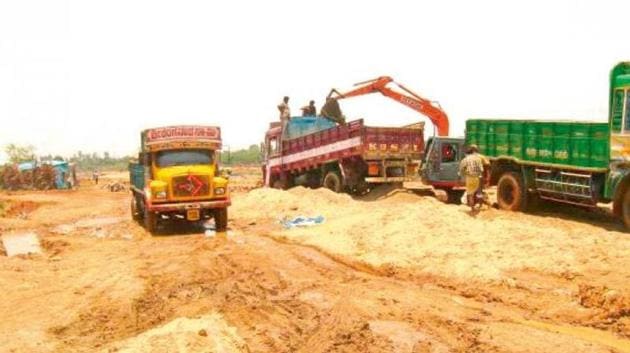 To be called Bihar minerals corporation, the new body is likely to be registered in a day or two.The BSMDC will be dissolved.
The move is part of the provisions contained in the proposed Bihar minor mineral rules, 2017, to facilitate complete takeover of the wholesale trading business of sand and other minerals, by the state government.
According to mines department sources, the new rules are ready and have been sent to the finance and law departments for their clearance. After that, it will be placed before the cabinet.
Once the new rules are implemented, the involvement of mafia in illegal mining of sand, rampant till recently, is expected to be significantly restricted, as the government will do wholesale trading of minerals with retailers across the state.
Principal secretary, department of mines and geology, KK Pathak, who took charge last month, has been working on the new policy to clean the vexed sand trade and address the overwhelming environment concerns underlying the handling of sand.
"The biggest impact of the new policy will be that tenders for mining will be awarded to the lowest bidder, as the corporation will be the buyer of sand and other minerals. At present, the tenders are awarded to highest bidder, as it involves both mining and trading," said mines director Satish Kumar Singh.
Those awarded mining lease will have no mineral rights. With the corporation becoming the sole custodian of stocks, the revenue of the state will also increase, besides checking arbitrariness in the pricing of sand and other minerals due to monopolistic practices by musclemen involved in it.
The process of cancelling the existing mining leases in Bihar, which were valid for five-year period ending December 31, 2019, has also got underway, with the district magistrates concerned issuing notices to all the 25 license holders for not adhering to environmental guidelines/ laid down tender provisions and mining beyond the approved area and time.
"The violations have been rampant despite strict guidelines by the national green tribunal (NGT) and the Supreme Court and the lease holders will have no explanation," said an official, adding, the auction of around 70-lakh CFT stock of seized sand in Patna and Saran fetched Rs 20-crore this week.
Auction of smaller stocks seized in other districts will also be done soon.
This will, to some extent, ease the pressure (of paucity of sand) due to crackdown on illegal mining, which led to complete stopping of construction activity in Patna and many other parts of the state. At present, there is a three-month monsoon restriction, ending September 30, on mining.