Shravani Mela: Police to escort pilgrims in Maoist areas of Bihar
Jul 14, 2017 04:38 PM IST
The 11 km dense Gangta forest area in Bihar's Jamui district is notorious for Maoist activities. Police have made arrangements to escort vehicles of pilgrims in a convoy through the forest patch.
Sultanganj (Bhagalpur) Pilgrims participating in the month-long Shravani Mela beginning Monday will be escorted by the police, while crossing the 11-km Gangta forest stretch, a hardcore Maoist area, in Jamui district.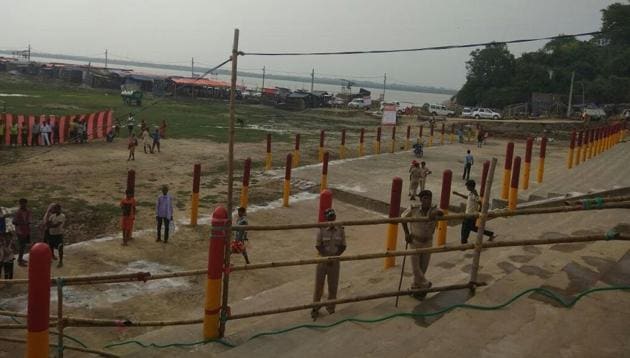 Though the Naxals have not targeted kanwariyas (devotees), incidents of loot and road hold-ups have been common at Laxmipur block in Jamui, prompting the administration to extend security cover to pilgrims along this route. The most recent road hold-up was reported last month, inspector general of police, Bhagalpur zone, Sushil Khopde said.
Maoists had ambushed a CRPF party in Jamui, killing two jawans and injuring four others, during the last Lok Sabha polls in April 2014. Around three months later, a CRPF officer was killed in a gunbattle with Maoists in Jamui.
Prior to that, KC Surendra Babu, the then superintendent of police, Munger, was killed along with his five bodyguards in a Maoist landmine blast on January 5, 2005 inside the Bhimbandh wildlife sanctuary area in Munger.
The Gangta forest route, used by motorists, connects the nearly 105 km sanctified path, known as the Kanwar Path, which the kanwariyas access by foot between Sultanganj in Bihar's Bhagalpur district and Deoghar in Jharkhand. Around 90 kms of this stretch passes through the Maoist hit districts of Jamui, Banka and Munger. Khopde said police will also do foot patrolling, with police pickets having been established at every 1-1.5 kms.
"We have made arrangements to escort 20-30 vehicles in a convoy while crossing the dense Gangta forest stretch. We also want to ensure that the main pilgrim route, passing through Banka, Munger and Bhagalpur, remains free of any Naxal interference. Special arrangements like vehicular and foot patrolling by the police have been made on routes prone to loot and robbery in the past," Khopde said.
Bhagalpur senior superintendent of police, Manoj Kumar, said that police personnel, including women, draped in saffron — posing as kanwariyas — would be deployed along the route to prevent theft, fraud and overcharging of pilgrims. The railway police are also deploying cops dressed as kanwariyas in trains. This was being done to prevent robbery of kanwariyas in moving trains.
Meanwhile, state tourism minister Anita Devi has already said that the state would approach the Centre to accord the Shravani Mela national fair status.
Around 35 lakh pilgrims from all across the country undertook the pilgrimage last year.
Lakhs of pilgrims from across the country descend on Sultanganj to collect holy water from the Ganga after which they proceed to Deoghar to offer the water to Lord Shiva at Baidyanath Dham. The devotees form a queue of saffron dyed clothes, as they proceed from Sultanganj to Deoghar Baidyanath temple.
Shravani Mela begins on the first day of the Shravan month (Hindu calendar) and ends on Shravan Purnima (full moon day) in the Shravan month. As per the Hindi panchang, the 30-day festival in Deoghar Baidyanath temple begins on July 10 and ends on August 7 this year.
Legend says that Shivling of Deoghar Baidyanath temple was brought there by Ravana, a demon in Hindu mythology. Hence the temple is also known as Ravaneshwar.
COPS ON TOES
QUOTE
We have made arrangements to escort 20-30 vehicles in a convoy while crossing the dense Gangta forest stretch. We also want to ensure that the main pilgrim route remains free of any Naxal interference
Sushil Khopde, IG, Bhagalpur zone
QUOTE
Police personnel, including women, in saffron, posing as kanwariyas, will be deployed to prevent theft, fraud and overcharging of pilgrims. Rail police are also deploying cops dressed as kanwariyas in trains
Manoj Kumar, Bhagalpur SSP