Gold is gold, silver is silver - second-best will not do for this champ, says Satish Kumar, super heavy-weight
Published on Oct 31, 2018 04:44 PM IST
He feel that the boxers do not get the level of support they should be getting.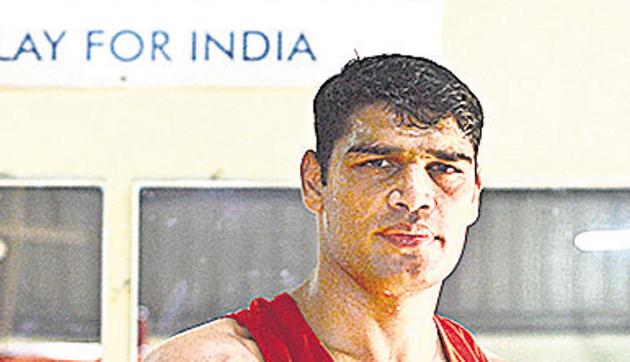 Hindustan Times, Pune |
Pranav Shahaney
Standing at 6 feet 2 inches, super heavyweight (91 kg) boxer Satish Kumar's mere frame is enough to send shivers down his opponent's spine. Having won a bronze at the Asian Games in 2014 and following it with a silver at the Gold Coast Commonwealth Games earlier this year, he now has his sights set on making it to the Tokyo Olympics in 2020.
Currently posted in Pune at the Army Sports Institute, Kumar has trained here and is now participating in the boxing nationals taking place in the city. It goes without that saying that he is the overwhelming favourite to win the gold medal on November 2, but he is keeping his feet on the ground, taking it one fight at a time.
Speaking exclusively to Pranav Shahaney, the 29-year-old threw light on how challenging the life of a boxer can be at times, but it's something that he enjoys doing, and setting high aspirations for himself is what spurs him on to be better than what he was the previous day.
What prompted you to take up boxing?
After joining the army, the coaches told me to have go at boxing so I started playing for fun. I was also encouraged by looking at all the other boxers around and that gave me the motivation to start boxing regularly. The great thing about the Indian army is that they give you exceptional support whatever you decide to do."
How important do you think winning a bronze at the Asian Games was for your boxing career?
I had a good few years of experience under my belt going into the Asian Games as I had participated in several international tournaments before and had won medals in them as well. I was also the Asian number two and the world number three. So that also gave me added motivation to win my first medal at the event.
You've won silver at the Commonwealth Games 2018. What do you think was needed to win a gold?
A gold is a gold and a silver is a silver. My coaches told me that I deserved the gold. But yes, I felt that there were some aspects in my game that needed improvement and I'm working on it.
What are the challenges faced as an Indian boxer?
There is a lot of politics in Indian boxing. I feel that the boxers do not get the level of support they should be getting. So, I think that if the federation gives a little more support, forget Commonwealth, we can also win a gold at the Olympics.We have very few referees at the international level. I think only four or five. I hope that more and more refs go to the international stage. Say one official goes for an international tournament, we don't see him speaking to the other officials whereas the European ones are constantly in communication with each other.
What is your daily schedule like here at the nationals?
Early in the morning we have our medicals and weight checkups. I then go and take rest for a few hours. Once I'm up, depending on my fight time, I schedule my meals accordingly. I feel it's best to have them two hours before my fight as it gets digested by then. After which I only have liquids in case I feel the need. Prior to the fight, my warm-up routine includes the punching pads, punching bags and also a bit of skipping to prepare myself for the fight. Also, a lot of focus is given on the opponent's strengths and what I can do to counter it."
What next after this tournament?
After this I will go for the national camp on November 18. At the start of next year, a lot of international tournaments will begin so I will be competing in those. In case there are no tournaments, I train daily, do what the coaches tell me to and focus on aspects of my boxing that need working on. There's also a specific programme made for every boxer and we have to follow those. My next target is to participate in the Olympics for the first time and I'm working extremely hard to make that dream a reality.
Personalise your news feed. Follow trending topics