Pune-based author Manjiri Prabhu sees the characters first - as a vision or in her dreams
Updated on Jun 17, 2018 04:40 PM IST
Prabhu describes her writing process as a little complex. It varies from book to book. Sometimes, she writes out the outline. It proceeds accordingly, but mostly, she sees the characters first – as a vision or in her dreams.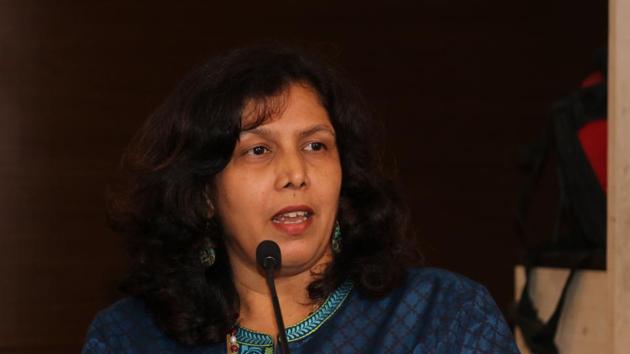 Hindustan Times, Pune |
Anjali Shetty
City-based author and convener of Pune International Literary Festival Manjiri Prabhu's tenth book, Revolt Of The Lamebren is inspired from a real story of how a child took sadistic delight in a stray dog's tortuous handling by Pune Municipal Corporation staff.
Prabhu describes her writing process as a little complex. It varies from book to book. Sometimes, she writes out the outline. It proceeds accordingly, but mostly, she sees the characters first – as a vision or in her dreams. "It is not necessarily always a logical step-by-step process. In fact, it's almost like multiple parallel thought tracks are vying for attention at the same time and I jump from one track to the other. So, I have characters on one track, plot on the other, backdrop on one and the beginning and end of the novel on another. Imagination and instinct cement these tracks as I try to bring all of them together into one cohesive whole that would make sense. It may sound haphazard, but it is actually just this big driving, creative force inside me, which is rearing to push a story into the world. In the process, it breaks through a lot of barriers of limitations, energy and time," said Prabhu.
About her latest book, Manjiri says that it was inspired by the plight of street dogs and one particular incident that really got her thinking. This happened many years ago, she said.
"I was in the house when I heard very painful squealing. I ran out of the house to see a pregnant dog being swung by a noose into the corporation dog van. She was hit, bruised and in severe pain. I was furious at the treatment meted out to her because someone had complained about dogs in the area and the Pune Municipal Corporation (PMC) van was randomly picking up dogs, regardless of whether they were looked after or were healthy. There was a young boy watching the entire episode from the sidelines. He was about three feet tall and slick, in a full-sleeved checked shirt and black trousers and looked so much like an adult in a small body. But it was the expression on his face which really struck me as alarming," she said.
He was watching the dog in pain with such a gleeful expression on his face that it sent a chill down her spine. She thought – here is our future, without empathy, without sensitivity, enjoying the pain of another being. "I wondered if this was what was going to happen in the future – human beings driven by technology, not emotions. I also wondered what would happen if we were to be born in an age where someone thought they were superior and we were a nuisance in their life and some van would collect us randomly and end our lives, without us having any say in the matter. That is how this dystopian (a community or society that is undesirable) series was born," she added.
Manjiri calls it a futuristic reality where survival, betrayal and friendship are all skewed because the novel is not about an alternate world, but a world that could be reality, if we aren't careful. "It talks about the basic instincts of human beings that are present in each one of us and no matter how progressive we are technologically, if we don't think and feel with our hearts, we will be a fearsome and appalling species and mere knowledge capsules of flesh and blood," she added.
Manjiri has often been compared to some famous mystery novelists, which she finds flattering. She admits that she never really consciously set out to be compared with them. "I grew up reading mystery and knew at an early age that I wanted to write mystery novels because I was fascinated by the genre. It challenged my analytical and creative process, and not only did I thoroughly enjoy creating the suspense, but I realised that I learnt a lot from my own process. I think what really clicked with the readers is the enjoyment and my involvement in my novels. Every book is a work of love and I feel it shows clearly. I spend months in their creation, in research, in creating multi-layered characters, plots that surprise readers and books that handle human emotions like love, envy, hatred, and greed. I feel that readers relate to these emotions and enjoy the unraveling of the story," said Prabhu.
What is the book about?
It is a dystopian novel set in a futuristic reality and the first book in a trilogy. It is about a 'normal' girl called Zinnia, also known as No G23, who is born in the ace-world of the Altklugs. An Altklug's year is equivalent to 6.25 human years and they are super-brained. They die by the time they are 15 and if not, they are quietly sent to their death through Dissolution Crypts. Zinnia and others like her are considered to be "lame brains" and are treated like labourers till they too are sent to their death at the age of 15, so as not to imbalance their perfect world. The novel is the daring tale of Zinnia, a 'lamebirl' born in the crippling ace-world of super-intelligent Altklugs, and her struggle to save others like her from the marked death, before their termination date.