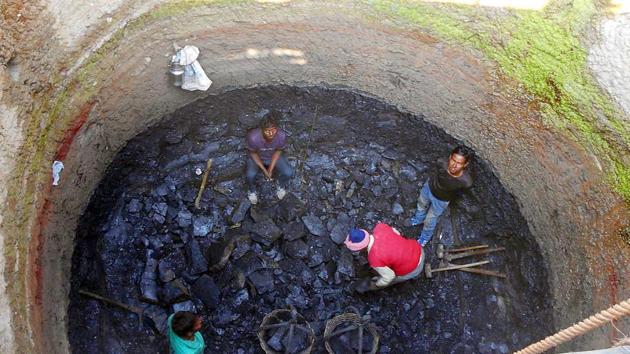 MGNREGA beneficiary in Jharkhand strikes coal while digging well
The Central Coalfield Limited deploys security guards near the well to stop mass loot of the mineral
Hindustan Times | By Manoj Sinha
, Ramgarh
UPDATED ON DEC 29, 2016 10:28 PM IST
Chhotelal Yadav, a beneficiary under the Centre's rural employment guarantee scheme, in the state's Ramgarh district thought he was finally rewarded for his three-year-long backbreaking job of digging a well when he struck coal 16-feet below the ground.
But soon his hope turned into despair as the news of his precious discovery reached the Central Coalfield Limited (CCL).
The CCL stopped further digging of the well, much to the disappointment of Yadav. It also deployed security guards near the well to prevent mass loot of the mineral as local residents started descending on Yadav's Premnagar colony to have their "share of the free coal."
After the deposit was unearthed, Yadav and local residents were mulling the possibility of extracting coal regularly from there to change their fortune. But the CCL poured cold water on their plan.
"We have deployed security guards at the well. The digging work has also been stopped. We will soon decide our future course of action in consultation with our higher officials," said CCL Religarha's project officer Umesh Sharma.
Yadav was given the job of digging the well under MGNREGA three years ago. For the work he was promised Rs 1,60,000. But soon he had to stop the work as payment was not forthcoming.
"Two days ago, I restarted the work after receiving part payment and got the coal. Seeing the black diamond under my feet, I though all my woes are over. But now I am not sure of getting rest of my payment as the digging has been stopped," Yadav said.
Close