Watch: Djokovic watches Murray's 5-set marathon vs Berrettini, stunned in silence by Australian Open 1st round thriller
Jan 17, 2023 03:29 PM IST
Novak Djokovic was left stunned by Andy Murray's five-set thriller vs Matteo Berrettini in the Australian Open first round.
Andy Murray was in resurgent form, sealing his biggest victory in years at the Rod Laver Arena on Tuesday. The Scotsman defeated Matteo Berrettini in a first round thriller, in a match which was more than 4-1/2 hours.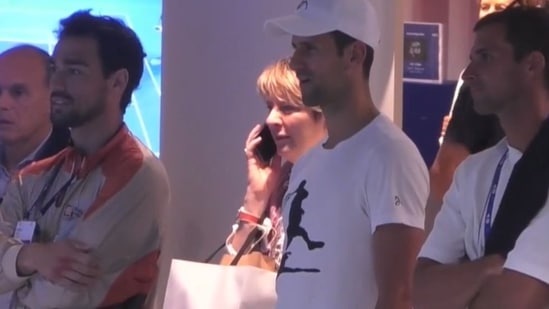 Murray initially built a huge lead, and suddenly lost it totally, then needed to save a match point against his Italian opponent, and managed to eke out a stunning 6-3 6-3 4-6 6-7(7) 7-6(10-6) victory.
Also Read | Watch: Vintage Murray rolls back years to hit stunning winner in epic rally with Berrettini in Australian Open thriller
Such was the intensity of the match that even Novak Djokovic and Fabio Fognini were glued to the television in the players lounge and simply looked stunned in silence by the competitiveness of the game. Here is the video of the pair following the match:
This is the first time since 2017, Murray has defeated a top-20 opponent at a Grand Slam event. He was supposed to retire in 2019, a year after his first hip operation. In a second surgery, he inserted a metal hip and decided to continue playing.
A five-time runners-up at Australian Open, Murray has four losses in the final to Djokovic and one to Roger Federer. Currently ranked 66, Murray finished 2016 as world no. 1. "I'll be feeling this — this evening and tomorrow. But right now I'm just unbelievably happy. Very proud of myself. I've put a lot of work into the last few months with my team to give me the opportunity to perform on stadiums like this, in matches like this, against players like Matteo", Murray said, after his win.
The 35-year-old cruised through the first two sets with ease in less than 1-1/2 hours, before Berrettini staged a turnaround and took the match to a fifth. The Italian ace came within one point of victory at 5-4 in that set but made a mess of an easy backhand. The pair played under a closed roof at Rod Laver Arena because of the soaring heat, which had caused suspensions of play.