While no less than 15 rounds of meetings between Indian and Chinese senior military commanders have taken place to restore April 2020 status quo ante on the unresolved border, the PLA is still forwardly located in the KongKa La area or what is defined as patrolling point 15 on the military map.

Published on May 05, 2022 08:31 AM IST
China has said for the first time that soldiers of the People's Liberation Army (PLA) have disengaged in the Hot Spring area of Line of Actual Control (LAC) in eastern Ladakh.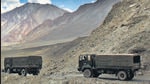 Updated on Mar 16, 2022 07:03 AM IST
"Colonel Bikumalla Santosh Babu displayed exemplary leadership and astute professionalism. He showed conspicuous bravery in the face of enemy and made supreme sacrifice for the nation," a government document stated.

Published on Nov 23, 2021 11:16 AM IST
Written by Joydeep Bose | Edited by Amit Chaturvedi
, Hindustan Times, New Delhi