Latest from kailash gahlot
Delhi transport minister Kailash Gahlot said Delhi's EV policy is a classic example of what can be achieved when the government and other stakeholders collaborate together.

The first day of the drive to enforce lane discipline among drivers of DTC buses led to congestion during peak hours in certain areas.
Delhi transport minister Kailash Gahlot said dedicated bus lanes will be marked like the ones demarcated during the Commonwealth Games 2010, and an intensive enforcement drive will be carried to ensure adherence to lane driving by bus and goods vehicles drivers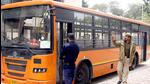 The Delhi transport department will enforce lane discipline on 15 selected roads in the city, with fines up to

₹

10,000.

It will not only be the first time the city sees e-autos formally inducted into its public transit network, but a significant number will also be driven by women, another first for the Capital.