Latest from mufti mohammad sayeed
Special public prosecutor Monika Kohli said Malik attended the hearing on Wednesday via video conferencing from Delhi's Tihar jail, where he is serving life imprisonment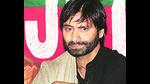 Updated on Sep 21, 2022 03:28 PM IST
This is the first time Rubaiya Sayeed has been asked to appear in the case. She had been freed after five terrorists were released in exchange.


Updated on Jul 15, 2022 08:28 PM IST
Abdullah said Sayeed made a mistake by forming a coalition government in the Valley with the Bharatiya Janata Party.

Published on Dec 01, 2021 11:34 AM IST