Latest from padma bhushan
Sonu Nigam reveals that a woman at his party took him to be Sonu Sood and later congratulated him for Padmabhushan award. Sonu celebrated receiving Padma Shri earlier this week.

Tata Trust chairman Ratan Tata was awarded the Padma Vibhushan in 2008 and the Padma Bhushan in 2000.

Jhajharia is a two-time Paralympics gold medallist (Athens 2004, Rio 2016) and one-time silver medallist (Tokyo 2020).

The party remained silent and didn't comment on this exchange. However, the episode was criticised by the old guard of the party, even those who aren't a part of the G23.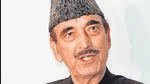 After the home ministry said that officials calls Buddhadeb Bhattacharjee's residence and informed about the government's decision to confer him with the Padma Bhushan, his family said that the call got disconnected soon after giving the information.