Gurmeet Ram Rahim Singh is currently serving a life term in Sunaria jail since his conviction in 2017 for raping two disciples.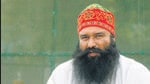 Updated on Nov 08, 2021 05:14 AM IST
By
Parteek Singh Mahal
, Hindustan Times, New Delhi
Ram Rahim was sentenced in August 2017 to 20 years of imprisonment in connection with raping two of his women followers and the murder of a journalist. He is currently lodged in Rohtak's Sunaria jail serving a life term.

Updated on Oct 08, 2021 12:06 PM IST
Written by Joydeep Bose
, Hindustan Times, New Delhi