The Boeing 737-800 aircraft (SG 723) was seen with a trail of smoke and passengers recorded a videos showing flames from the left engine shortly after it was struck by birds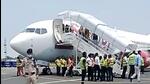 According to a statement issued by the spokesperson of the airline, the cabin pressure differential was unable to be built up as the altitude of the cabin rose from the ground.

Airport authorities have been raising the issue of the open abattoir and meat shops near the airport with the state government for over a decade, but no action has been taken yet.

PATNA A Delhi-bound SpiceJet aircraft carrying 191 people, including two infants, caught fire after a bird hit at around noon on Sunday, soon after take-off from Patna, but was able to make an emergency landing back at the airport without any harm to the crew and passengers, officials said

Captain Monika Khanna and first officer Balpreet Singh Bhatia were calm throughout the incident and handled the aircraft well, said Gurcharan Arora, the airline's chief of flight operations.