Pandey said the leopard's body was taken into possession by forest officials and was sent for post-mortem.

Ajay Kothiyal had resigned from the Arvind Kejriwal-led party last week. The AAP had registered a nil in the recently concluded election.

Here are today's top news, analysis, and opinion. Know all about the latest news and other news updates from Hindustan Times.

The principal of the government inter college (GIC), Prem Singh, said he was forced to issue transfer certificates (s) to seven students to warn them to stop the boycott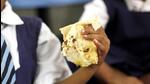 The AAP had suffered a rout at the hustings with Kothiyal losing his deposit from the Gangotri assembly seat.