Cat calmly enjoys grooming session. Video makes people ask 'How is that possible?'
Jan 04, 2023 08:26 AM IST
The video of a cat named Chase calmly enjoying a grooming session was posted on Instagram.
If you are a cat parent or someone who has seen enough videos of kitties, you may be aware of how most of them don't like it when their humans try to include them in grooming sessions. Once in a while, however, we do see exceptions to that rule. Just like this video that shows a cat named Chase calmly enjoying its grooming session. The video has prompted many to ask "How is that possible?". Chances are, it will make you wonder about the same thing too.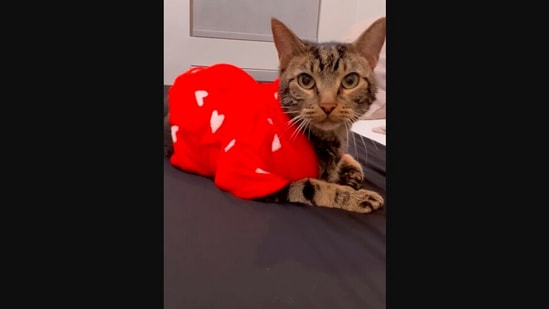 The video was posted on the Instagram page @dontstopmeowing which is dedicated to adventures of different cat siblings. The video of Chase is posted with a caption that reads, "The little robe." And, the meaning of the caption becomes clear towards the end of the video.
The sweet video opens to show Chase's pet mama clipping its nails. She then brushes the kitty's teeth and gives it a bath. The video ends with the cat getting all cleaned up and wearing a cute little robe.
Take a look at the video:
The video was posted a day ago. Since being shared, the clip has accumulated close to 6.7 lakh views and the numbers are only increasing. Additionally, it has gathered more than 76,000 likes. The video has further received tons of comments from people.
Here are some of the comments from Instagram users on Chase's video:
"He's so well behaved! My cat almost chopped my arm off the one time I had to give him a bath because he had fleas," shared an Instagram user. "How in the HELL is this possible? Our cat claws our eyes out trying to do any of this," wondered another. "My cats would never," posted a third. "I showed my cat this video and asked him why he couldn't be like Chase? Lol," joked a fourth. "Chase is such a good role model," wrote a fifth.