Indian video creator recreates Pakistani woman's viral Mera Dil Yeh Pukare dance. Watch
Nov 27, 2022 04:34 PM IST
The clip showing an Indian video creator recreating Pakistani woman's viral Mera Dil Yeh Pukare dance routine was posted on Instagram.
If you regularly use social media, there's a high chance you have seen the viral video of a Pakistani woman's dance to Lata Mangeshkar's Mera Dil Ye Pukare at a wedding. Many have also recreated the now-viral dance routine with a twist of their own. Just like video creator @asmita.guptaa who posted a video of her performance.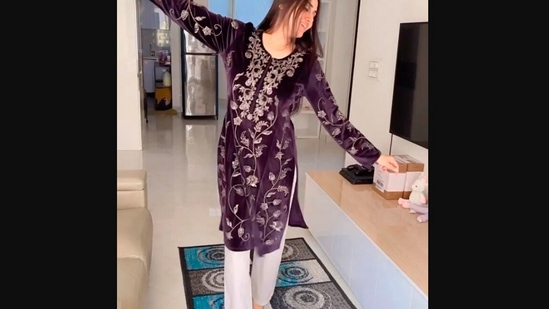 "Mera dil yeh pukaare aaja," she wrote and shared the video. The clip opens to show her in an ethnic outfit. Within moments, she starts dancing and showing her skills.
Take a look at the video:
The video was posted a few days ago. Since being shared, the clip has gone viral. Till now, it has received close to 3.6 million views and the numbers are only increasing. The video has further prompted people to post various reactions.
"India tak phonch gae," wrote an Instagram user. "This is honestly one of the bestest and cutest reels on the internet, so much love from Pakistan," shared another. "Very nice," expressed a third. Some showed their reactions through heart emoticons.
This hit song Mera Dil Ye Pukare Aaja is from the film Nagin that was released in 1954. The song was picturised on Vaijayanti Mala, Pradeep Kumar, Jeevan and Mubarak Silochana.