Monkey turns cat into 'taxi', hitches a ride on its back. Watch
"CaTaxi," joked a Reddit user while reaction to the video showcasing a monkey and a cat.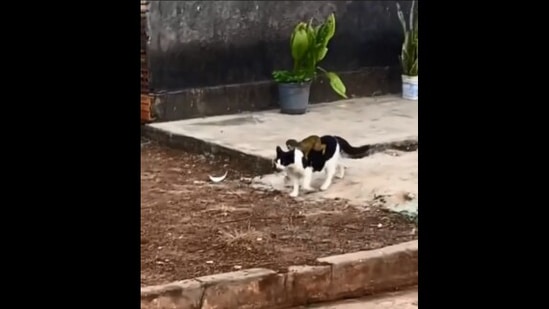 Published on Dec 03, 2021 03:48 PM IST
Videos that showcase interspecies friendships are often amazing to watch. From a dog and a bird being friends to a cat hanging out with a pooch, such clips are a treat for any animal lover. There is another inclusion to this list and it features a monkey and a cat. There is a chance that you will end up watching this sweet video more than once.
The video was posted on Reddit about 15 hours ago. "Cat carrying a little monkey," reads the caption shared with the clip. And it shows exactly that. The entire video shows a cat moving around with a monkey sitting comfortable on its back.
Take a look at the video:
The video has gathered nearly 3,300 upvotes till now and counting. It has also accumulated varied comments from people.
"If this had continued for an hour, I'd for sure watch it," wrote a Redditor. "I've never wanted to be a little monkey more in my life!" posted another. "CaTaxi," joked a third.
What are your thoughts on the video?
Topics
Close Story