Viral video of chai being prepared inside a coconut shell prompts mixed reactions
Jan 24, 2023 08:52 AM IST
The video of someone preparing chai inside a coconut shell was posted on Instagram.
If you are a chai-lover, then you may love searching for new tea recipes often shared on social media. A video of one such recipe was recently posted on Instagram and it has left people with mixed reactions. The clip shows tea being prepared in a hollow coconut shell.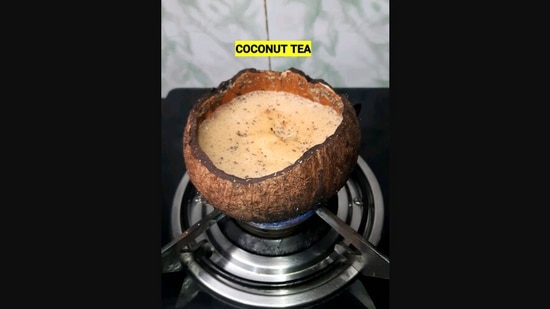 Digital creator Kavita Rai posted the video on her Instagram page that is dedicated to cooking. "Tea in coconut shell," she wrote while posting the video.
The clip opens to show someone placing a hollow coconut shell over an oven. They then proceeded to add the different ingredients like milk, sugar, tea leaves, ginger, and cardamom powder to prepare the drink. The video ends with a text overlay on the screen that reads, "Coconut tea."
Take a look at the video:
The video was posted a few months ago. Since being shared, the clip has gone viral. Till now, it has accumulated more than 47.2 million views and the numbers are only increasing. Additionally, the post has gathered tons of likes and comments. While some were impressed by the method, others argued that it is risky to make tea in such a way.
Here's how Instagram users reacted to the video:
"Nice. But there should be a disclaimer that making tea like this can be a fire hazard," wrote an Instagram user. "Now I know what to do if I get lost in the jungle and don't have a pateela to make chai, love the idea! It's actually good for camping," shared another. "Unique concept of making tea," praised a third. "Yum I would love to try," expressed a fourth. What are your thoughts on the video?
Topics